iOS Game Developer Ngmoco Builds Cinema Display Fort
Ngmoco, highly successful iPhone, iPod Touch, and iPad video game developer, shows they got a "few" Apple products with photo of Apple Cinema Display Fort.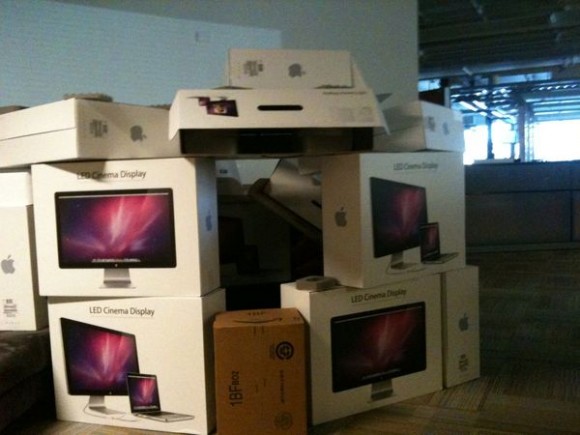 Look like Mac based Ngmoco just upgraded some of their aluminum Apple Cinema Display with the newest Apple LED Cinema Displays:
"An LED Cinema Display fort has appeared at #ngmoco HQ this morning." @ngmoco describes.
Must be fun to work at the developer of games that include Star Defense [itunes link, $0.99], Rolando [itunes link, $4.99], and freemium games such as Godfinger and We Rule.
Starting from revenue of $484,000 in 2008, in October 2010 Ngmoco was acquired for around $403 million by Japanese firm DeNA. All enabled by developing for Apple's revolutionary mobile App Store for iPhone, iPod touch, and iPad.
via macenstein

Related Posts