Infinity Blade: December 9 Release Date & Pricing!
Infinity Blade, first iOS game from Gears of War developers, will be available next week as universal iPhone, iPod touch, and iPad app!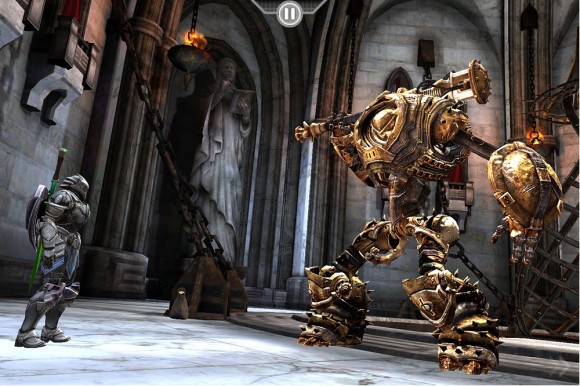 Toucharcade describes the release date of Infinity Blade is set for December 9, 2010. The great looking game from Epic Games / Chair Entertainment will be an Universal game playable on iPhone 3GS, iPhone 4, iPod touch 3G, iPod touch 4G, and iPad for $5.99.
The Unreal Engine powered sword fighter RPG isn't the traditional button masher. Instead, Infinity Blade uses screen swipes to perform combos, Beast Boxing style. (We're guessing the swipe based combat is made possible by the responsive and accurate multitouch touchscreen on Apple devices.)
Infinity Blade: Back Story
Infinity Blade was originally introduced as "Project Sword" at the "Apple Gone Wild" September special event. How did that came about?
Over the summer, Donald Mustard and his team of game developers at Chair Entertainment got a chance to show the Apple icon Steve Jobs their game. Steve was blown away.
Donald Mustard describes Steve jobs was amazed. "He just said, 'I can't believe this is on one of our devices,' " Mustard recalled Jobs saying. After seeing the iPhone game, another Apple executive uttered, "This changes everything."
Salt Lake Tribune describes that "Apple was so impressed with the game's graphics, the company invited Mustard and Mike Capps, the president of Chair's parent company, Epic Games, to come onstage with Jobs."
The last high profile game Apple introduced was Halo, originally developed by Bungie to be first available for the new Mac OS X. However, Microsoft bought out Bungie, after Steve Jobs narrowly missed the chance to buy the game developer. Bungie turned out to be a huge hit that attracted gamers to the XBox. This time, things are different. It's highly unlikely any developer can be bought away from the highly successful billion dollar Apple App Store, not even Microsoft.
We look forward to release of Infinity Blade. In the mean time, Epic Citadel, a demo of their engine's amazing capability is available on the App Store.
Rage HD is another game that showcase the power of iPhone 4, fourth generation iPod touch, and iPad.
Infinity Blade Game Play Gallery

Related Posts