HDMI Adapter for iPad, iPhone 4, iPod touch 4G
Portable HD HDMI adapter / up-converter for new iOS devices.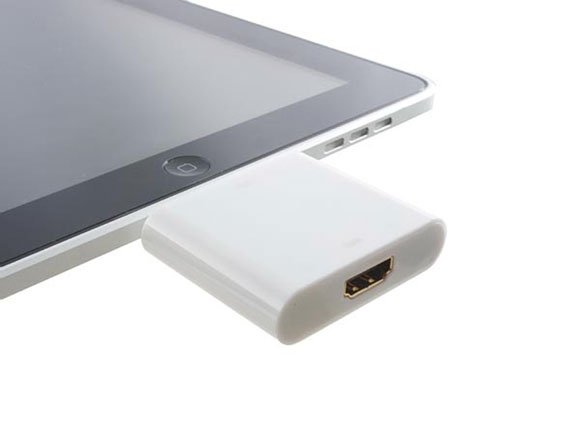 Earlier this year we covered a large iPad VGA to HDMI converter powered by USB port, which converts iPad VGA output to 1080P HD HDMI. There is now a better option.
iPad, iPhone 4, iPod touch 4G HDMI Adapter
Finally, a tiny HDMI adapter for iPad, iPhone 4, iPod touch 4G with video and audio output via HDMI. Looks great in terms of specs:
It is device powered, no external power supply required, and Jailbreak not required. The HDMI adapter is said to support various apps, such as YouTube, Photos. It also supports online videos and online FM radio.
Weights: 18g (0.63 ounces)
Operation temperature: 0 to 50 degrees C
Not compatible with iPhone 2G / 3G / 3Gs (HD output probably only works with A4 devices)
One odd thing is that it lists support for "photos on Powerpoint." WTF? Do they not know Microsoft didn't make Powerpoint for iOS? Apple does provide an alternative with the Keynote iPad App [itunes link], which has Powerpoint support. Maybe this HDMI adapter supports that?
Cable not included. Something it won't play: "Does not support the movies that were purchased through iTunes that contains Fairplay copy protection."
HDMI adapter is currently available at $69.99. [Usbfever]
Got one? Let us know how it works.
Official Apple iPad, iPhone 4, iPod touch 4G Video Export
If you would rather use an Apple accessory, you can also export to 576p and 480p with Apple Component AV Cable; 576i and 480i with Apple Composite AV Cable. Works with iPad, iPhone 4, iPod touch 4G:
Apple Component AV Cable, $49 [amazon link
]
Apple Composite AV Cable, $49 [amazon link
]

Related Posts