Great Photos from Rally to Restore Sanity + Keep Fear Alive DC (Updated)
It's a trap of geeky costumes + smart slogans. Here are some great images + posters from the iPhone app and photos shot with iPhone 4 by OP Editor of the October 30, 2010 Rally to Restore Sanity and March to Keep Fear Alive.
Political Rally Meets Comic Con
Organized by Mac users Jon Stewart and Stephen Colbert, the rally for sanity at the Washington DC National Mall in front of the US Capital is like a mashup of comic-con and faux political rally on steroids!
iPhone Jailbreaker Comex was there too!
Here's Sarah Palin as Star Wars Darth Vader, holding Princess Leia who pleas "Help Me Colbert, You're My Only Hope":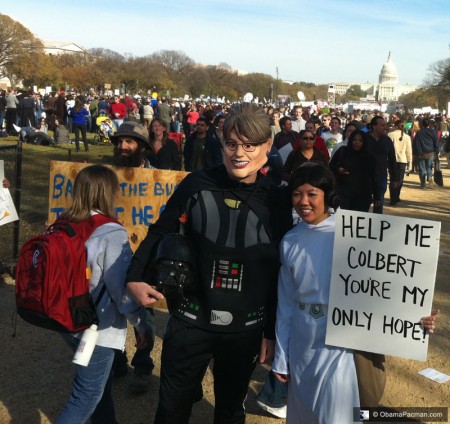 Photo-Stream: Sanity / Fear iPhone App
Below this section is the OP photos. You can also check out some photos from the Sanity / Fear iPhone app photo stream, including Admiral Ackbar wondering if it's a trap: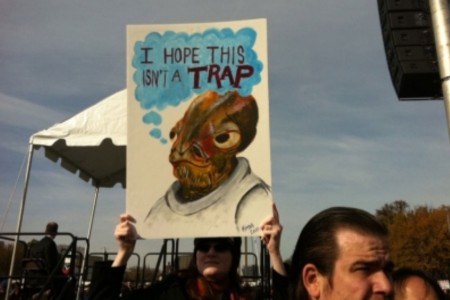 Sanity Pacman vs. Ghosts: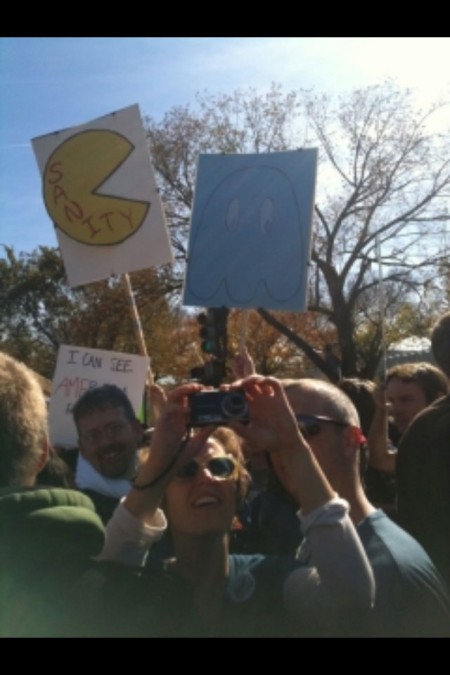 Great Posters + Halloween Costumes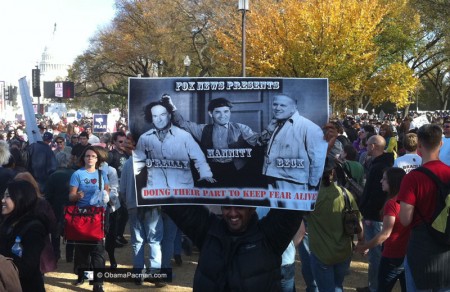 The Rally to Restore Sanity brings a huge diversity of creative posters and Halloween costumes, such as Death thanking the GOP health care reform, tripping for Zombies, Dinosaur vs. Mermaid, invest in Weapons of Mass Instruction and world "peas" / peace, Mad Hatter wanting his crazy Tea Party back, and more!
Image Credit, 3 photos (trap, Pacman, rational) from the Sanity / Fear iPhone App.
Photos with copyright ObamaPacman.com by OP Editor requires link and credit to this article for usage.
Update
Reader Chloe submitted her own photo of "Don't Hate Me Because I am Rational." Her note: some places only saw the rational poster, so they mistakenly called me a guy! Well, Chloe looks like a girl. So, please, no Chloe = Lady Gaga styled rumors.

Related Posts