Flash Player: 100% CPU Usage, No iSight Webcam Video Bugs
Warning: Latest version of Adobe Flash Player, 10.1.102.64, causes various problems, including 100% CPU usage and disabling of iSight on some flash sites.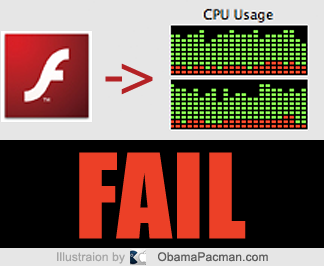 WTF? Why is my Mac's fan spinning at high?
This article describes our problems and symptoms with majors bugs of latest Flash Player, considered "stable" by Adobe, and how to fix it.
Flash Player… It Just Burns!
If you want the "full" Flash experience, just install the buggy Flash Player 10.1.102.64 released by Adobe on November 4, 2010. Warning, may burn users with 100% CPU Usage.
No joke, installing the latest Flash Player (as of this publication), will ramp up your CPU usage to 100%, so you can see if your laptop fans are working.
How Did We Determined This
Equipment: 3.5 year old MacBook Pro, Core 2 Duo 2.4ghz Santa Rosa, running Mac OS X 10.6.4.
Normally OP Editor has about total of 100 browser tabs open on three different browsers, and that never take up 100% CPU. But we realized something is wrong when the MacBook Pro fans are spinning like mad even with only two dozen tabs open.
Opening Activity Monitor app to display All Processes shows that the browser is the culprit. Quit and relaunch didn't solve it. Reboot didn't solve it.
The only newly installed software is the latest Flash Player.
Flash Player 100% CPU + Webcam Disabled Bug
Bug: Adobe Flash Player 100% CPU Usage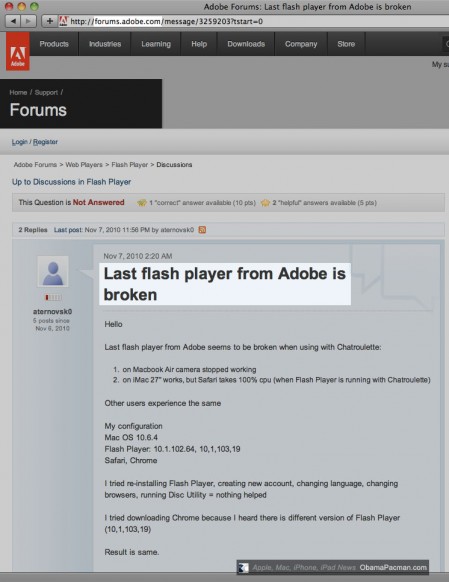 Here's a report on Adobe forums that the latest Adobe Flash Player broke the iSight camera for MacBook Air. Flash Player also caused 100% cpu usage when Flash Player is running with Chatroulette on the user's iMac.
The 100% CPU usage bug is what OP Editor experienced.
Bug: Adobe Flash Player Disables Webcam / iSight Video
On November 6, 2010, Jeffrey Groves submitted a bug report on the 100% repeatable bug. (Update: Over a month later, in late December Adobe still hasn't responded). How to reproduce:
1. Visit any site that uses flash and supports a web cam using Mac OS X
2. Attempt to use built-in Isight camera or any video source under Settings.
3. Video from webcam is not displayed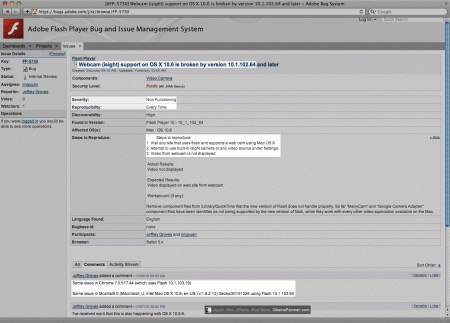 He found that Adobe didn't seemed to have tested Flash Player with standard quicktime components: "So far 'ManyCam' and 'Google Camera Adapter' component files have been identifies as not being supported by the new version of flash, while they work with every other video application available on the Mac."
The previous versions of Flash also didn't break with those components.
How to Fix 100% CPU + No Web Cam Flash Issue?
How to fix it:
1. Uninstall Flash Player. You need to quit your browsers first, and use the Flash uninstaller from Adobe:
Mac Flash Uninstaller (238 KB) (Updated Sept 20, 2010)
Windows Flash Uninstaller (228 KB) (updated 11/04/2010)
If you rather not have Flash sapping your battery, then you are done. Otherwise, continue.
2. Install older version of Adobe Flash Player 10.1.85.3 (10.1 r85). Check your download folder for an image dated September 16, 2010.
If you can't find it, here's a mirror of the old Flash Player:
Download (3 month temporary mirror, expires early Feb 2011), 8MB zipped DMG for Mac OS X. Or try the Adobe Flash Archive.
Chatroulette realized the problem is Flash Player, and offers another option: to install the beta (preview release) Flash Player Square: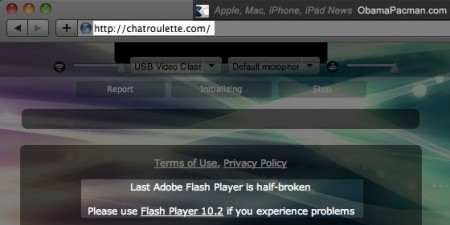 But do you want to install an Adobe beta? Here's what Adobe has to say about their beta Flash Player 10.2 software: "Because this is a preview version of Flash Player, we don't expect it to be as stable as a final release version of Flash Player. Use caution when installing Flash Player "Square" on production machines."
Ironically, beta version of Flash works better than the official "stable" version released by Adobe.
3. Install a Safari Flash Blocker if you haven't yet.
Flash Video Problems
Update: For those who still have Flash video problems, Google suggest uninstall the Google Voice plugin. Directions here:
To uninstall Google Voice plugin in Mac OS X:
In Finder, navigate to Applications > Utilities
Open the Terminal application
Copy and paste the following command into the Terminal app window: ./Library/Application Support/Google/GoogleVoiceAndVideoUninstaller.app
Press Enter on your keyboard
To uninstall Google Voice plugin Windows:
Click Start > Settings > Control Panel
Double-click Add or Remove Programs
Scroll down to find Google Talk plugin
Click Remove, then Yes, then Finish
Set iSight camera as webcam when Flash asks.
Google Chrome with Flash vs. Safari with Flash Blocker
Google Chrome, which loads Flash on multiple pages even though Flash blocker is installed, still saps 100% CPU core with only 18 tabs open. Same number of tabs in Safari uses 5% CPU, with Flash blocker. Shown here: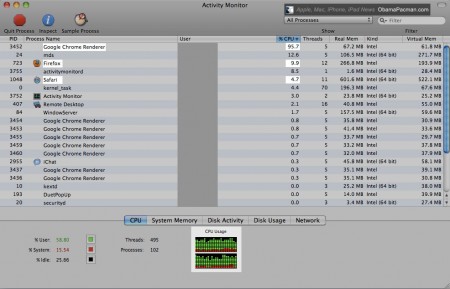 In comparison, Safari with 75 tabs open jumps around from 6% to 20% CPU usage. Not even close to 100% CPU usage.
For Google Chrome users, if you are still seeing Flash predictably running you CPU at 100% even with only a few tabs open, then you might want to try a different browser with Flash Blocker installed.
Conclusion
Flash "rich internet application" my arse. Adobe Flash, you are hopeless.
As Steve Jobs said to Adobe about Apple's war on Flash: "We've told Adobe, if you ever had this thing running fast, come back and show us. And they never did." Three years after the introduction of the flash-less iPhone, Adobe still hasn't demoed a version of Flash that qualifies.
Update, February: Adobe Flash Player 10.2.152.26 released on February 8, 2011 is said to be better (on some new computers that support GPU decoding it works much better). So, it took Adobe 4 years after Apple rejected Flash to come up with a version that works on computers. How long would it take for them to make a decent version for mobile devices? (Answer, longer than how companies are adding HTML5 videos).

Related Posts