Download Official Google Voice App
Google releases official Google Voice App for iPhone. Brings data-mine-able voice mail and text messages to iPhone.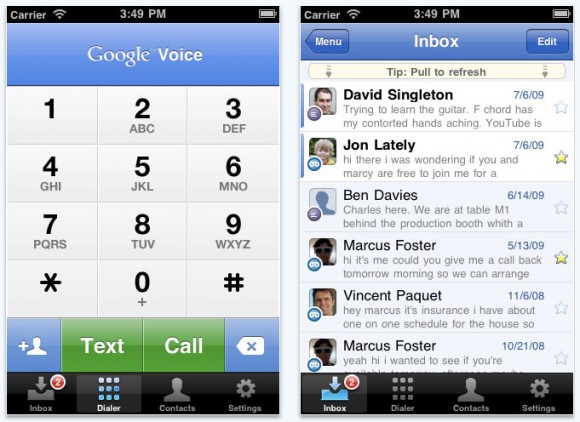 Download Official Google Voice App
Google Voice is a US only telephone switchboard service with free voice mail and free text messages. In September, third party double Google Voice Apps were approved by App Store. Now the Mountain View company has released the Official Google Voice App [itunes link]
Google Voice iPhone App Features:
Access your Google Voice account right from your iPhone.
Receive push notifications for new text or voicemail messages.
Send free text messages to U.S. numbers and make international calls at cheap rates.
Listen to your voicemail, read transcripts and manage your Google Voice inbox.
Display your Google Voice number as caller ID when making calls.
Call contacts from your iPhone Address Book or enter new numbers on the dialpad.
Although Skype and Fring already brought voice over IP phone calls to iPhone, (Fring even has mobile video chat), Google Voice is not a VoIP service. Google Voice is only available in the United States. A Google Voice account is required to use the app, sign up at google.com/voice

Related Posts