Download Infinity Blade iPhone & iPad IPA. Real or Fake?
You can download hot Apple iOS game Infinity Blade IPA, a website claims.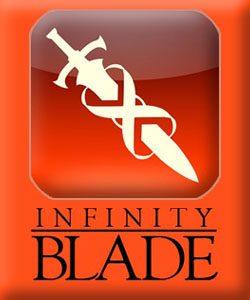 Update: Infinite Blade Now Available
November 29 Update: Infinity Blade release date & pricing
December 8 Update: Get the Infinity Blade Download + Game Play Video, released by Epic Games
"Download Infinity Blade iPhone IPA"
The STORY is that the finished game leaked, and you can download it now:
"One of the most hyped up iPhone games is finally here. Infinity blade uses high-end graphics for the all iOS devices and is expected to be a massive hit. A technical demo was released a while ago, but this is the final version of the game. A technical demo was released a while ago, but this is the final version of the game… Enjoy the newly leaked version of Infinity Blade.ipa"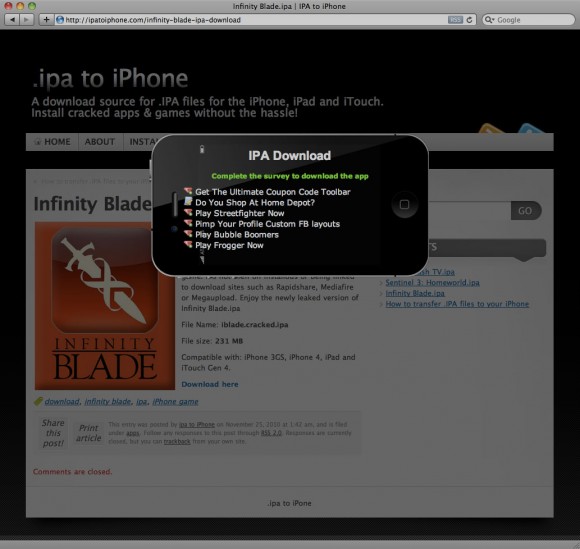 The site, which self proclaimed as the "new alternative to Appulous," describes that the leaked Infinity Blade download, at file size 231 MB, is not even on pirate sites.
Download Infinity Blade IPA Reality
Unfortunately, it's a scam similar to the greenpois0n iPhone jailbreak phishing scheme, where a questionable web site promises leaked software ahead of its actual availability. The scammer goes around posting messages similar to this: "You can download the ipa file of Infinity blade here?! http://ipatoiphone.com/infinity-blade-ipa-download "
In reality, even the creators of Infinity Blade (Epic Games and Chair Entertainment) don't know when it'll be completed. Just a few weeks ago Epic Game announced a vague delivery date. "Forthcoming Action-RPG Set to Deliver Epic Sword Battles on iPhone, iPad, and iPod touch this Holiday."
Surely a shady website somehow finished development work for Epic Games, and got a "final" version of Infinity Blade out before its developers finished the game (and announced availability). The site also claims to provide downloads of "Mutant Bash TV." ROTF. Look it's even available for the iTouch! And the website wonderfully calls the Apple smartphone iPone.
The same scammer goes around posting similar messages on different games. Including Crysis 2 game download, which is available on March 22, 2011: "Actually, the game just leaked, I just downloaded a copy." Pointing to site crysis2download.blogspot.com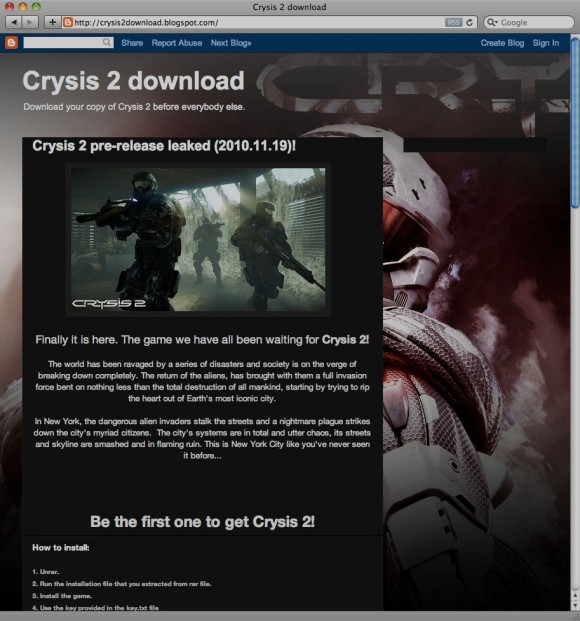 The goal of these fraudsters is to profit from people clicking on ads or have them sign in using social networking accounts to steal personal information. In this case one of the links is designed to steal your Facebook account. There is no download (because the game is not completed yet, never mind leaked). So, don't do it.
Download Infinity Blade from iTunes when it comes out. We'll let you know when Epic Games releases the anticipated RPG. In the mean time, there are plenty of great looking games for iOS. One recent one is Rage HD for iPad, iPhone 4, iPhone 3GS, iPod touch 4g and iPod touch 3G.

Related Posts