Buy the $240,000 Apple-1 Computer Made in Steve Jobs' Garage
This first Apple-1 Computer was made in Steve Jobs' garage is on auction.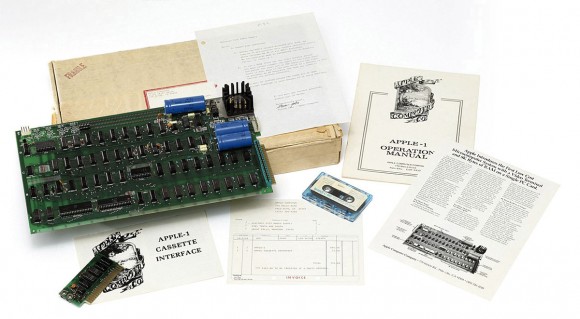 Auction of Apple-1, Birth of the Home Computing Revolution
"APPLE-1 Personal Computer: The Birth of the Home Computing Revolution", first introduced on July 1976, is on sale! No Steve Jobs business card but it does have the signature of Steven Jobs.
An Apple-1 motherboard, number 82 with 8K bytes of RAM, original box, with TYPED LETTER SIGNED 'STEVEN JOBS,' is on the auction block at Christie's. Letterhead contains original Apple Logo with Isaac Newton under a fruit tree.
Originally sold for $666.66 (the one on sale has original typed invoice for Apple-1 and Apple cassette interface totaling $741.66 dated 12/7/76 by salesman named as Steven) the first Apple computer is estimated to be worth £100,000 to £150,000 or USD $161,600 to $242,400.
Christie's auction for the first Apple computer is scheduled for 23 November 2010.
Update: First Apple Computer Sold For $211,535 at Auction

Related Posts