Beatles Makes Worldwide Digital Distribution Debut on iTunes
After a Hard Day's Night of speculations, Beatles, one of Steve Jobs' favorite bands, makes its digital distribution worldwide debut on iTunes.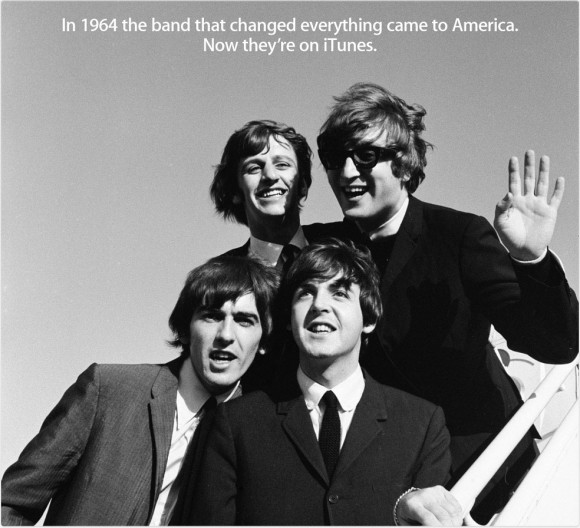 "In 1964 the band that changed everything came to America. Now they're on iTunes." – Apple iTunes Beatles debut, November 16, 2010, introduction the Fab Four similarly to iPhone 4: "This changes everything."
For decades the Beatles has resisted the digital revolution with the tunes of "You Can't Do that," instead preferring to sell their music on physical media, be it LP record, CDs, and more recently an Apple shaped USB drive [amazon link
]. But finally Beatles and EMI Records agreed to make its library available on the most popular music store in the world.
Today's Beatles worldwide digital distribution debut brings all the studio albums and collection, each comes with iTunes LP, featuring lyrics, photos, album art, and more.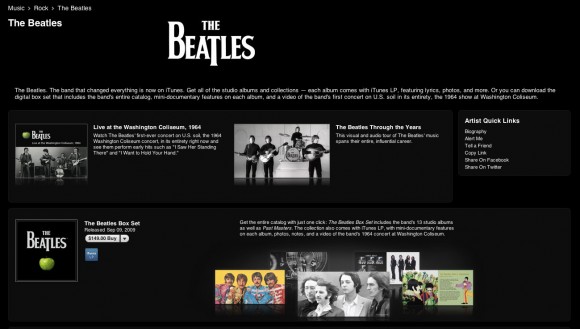 The entire digital box set including the band's entire catalog, mini-documentary features on each album, and a video of the band's first concert on U.S. soil in its entirety, the 1964 show at Washington Coliseum is available at only $149 for all 256 items [itunes link].
Individual albums are available at $12.99, and each song available at $1.29.
Watch Beatles' First U.S. Concert: iTunes Exclusive

Beatles' entire first American concert is an iTunes exclusive, available to watch for FREE on iTunes or apple.com.
Steve Jobs, Paul McCartney, Ringo, Yoko Ono Excitements
Apple CEO, with a little help form my friends, former members of Beatles, and Yoko describes:
"We're really excited to bring the Beatles' music to iTunes," said Sir Paul McCartney. "It's fantastic to see the songs we originally released on vinyl receive as much love in the digital world as they did the first time around."
"I am particularly glad to no longer be asked when the Beatles are coming to iTunes," said Ringo Starr. "At last, if you want it—you can get it now—The Beatles from Liverpool to now! Peace and Love, Ringo."
"We love the Beatles and are honored and thrilled to welcome them to iTunes," said Steve Jobs, Apple's CEO. "It has been a long and winding road to get here. Thanks to the Beatles and EMI, we are now realizing a dream we've had since we launched iTunes ten years ago."
"In the joyful spirit of Give Peace A Chance, I think it is so appropriate that we are doing this on John [Lennon]'s 70th birthday year," said Yoko Ono Lennon.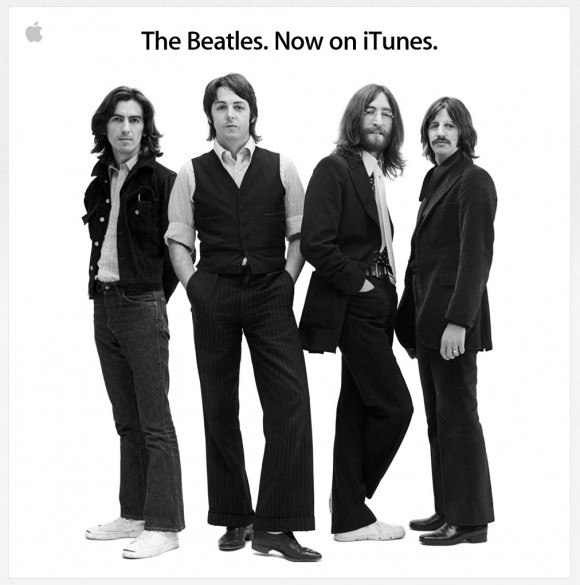 Historic iTunes Announcement?
Yes, Beatles is an important part of music history, but seriously, is it a Historic iTunes Announcement on par with the moon landing and the fall of Berlin Wall?
Even with the entire Beatles catalog available at a Wild Honey Pie of a price, will November 16, 2010 be a day you'll never forget? Ever? Perhaps it'll be known as the official Apple iTunes Magical Mystery Tour Rickroll day?
One thing is for sure, many will be watching iTunes exclusive The Beatles Live at the Washington Coliseum, 1964 tonight.
via [itunes link]

Related Posts