Apple Kills Steve Jobs … Action Figure
Big brother at Cupertino kills the wonderful mini Steve Jobs action figure. =(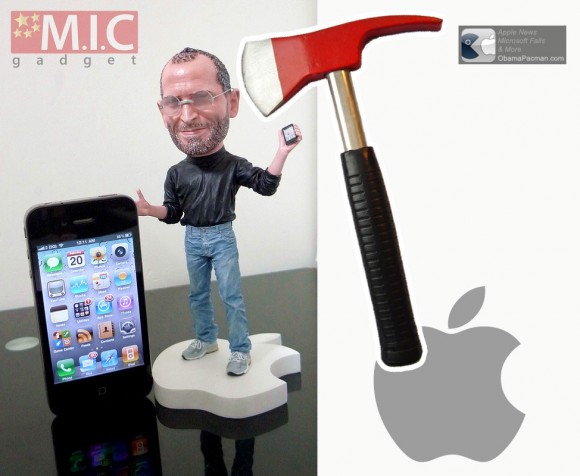 The amazing mini Steve Jobs action figure is dead, its seller M.I.C. gadgets informs. After selling out of 300 first run of the hand-made Steve Jobs action figure, M.I.C. plans additional runs due to the high amount of interest. However, Apple informed M.I.C. gadgets, that they did not obtain consent to make the charismatic Apple CEO into a product:
"Unauthorized use of a person's name and/or likeness constitutes a violation of California Civil Code Section 3344, which prohibits the use of any person's name, photograph or likeness in a product without that person's prior consent…"
M.I.C. is seeking consent from Apple to license the likeness of Steve Jobs, but it's unlikely that Apple will provide that.
WTF Apple? First, there is no Google Voice at App Store (which Apple reverted), then there is no iPod inspired egg pod, and no mosspuppet sound board (still rejected from App Store but accepted on Windows 7 Phone). What's next? Apple forces Steve Jobs to resign? (Oh wait… that was 25 years ago).
We know that Steve Jobs does occasionally stay hungry, but what about stay foolish? Foolish to make an awesome Steve Jobs action figure?
So, what can you do? Folks: please write sjobs@apple.com with something like this:
Dear Steve,
Can you please make or license the awesome Steve Jobs action figure!
I also want to buy the Mosspuppet sound board app! Please approve it! (optional)
While you are at it, please send ObamaPacman an iPhone 5 prototype! (very optional)
Or I will stop buying Apple product for a month, etc.
If you are extremely convincing, the Apple CEO might even write back to you!
via The End of Apple CEO Action Figure [MIC Gadget]

Related Posts