Apple: Historic iTunes Announcement (Tomorrow!)
Forget MacBook Air, iPad, iPhone, iPod. Apple just announced a historic iTunes event that may rival Man's walk on the moon.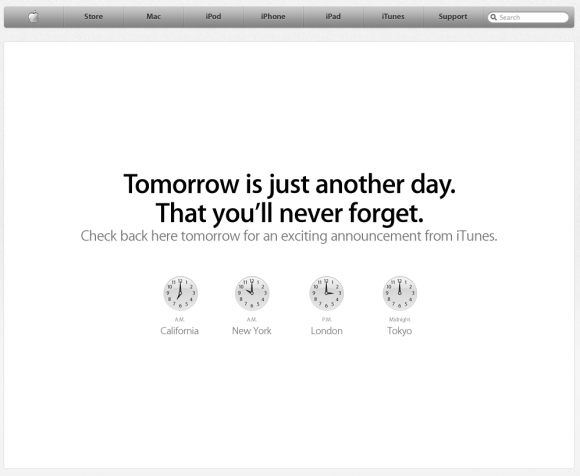 One small step for Apple, one giant leap for mankind? Apple home page describes:
"Tomorrow is just another day. That you'll never forget.
Check back here tomorrow for an exciting announcement from iTunes."
What a bold statement from Apple. Putting tomorrow's iTunes event on par with historic events such as Newton discovering gravity, Faraday discovering electricity, Wright brothers' first airplane flight, Alexander Graham Bell's first telephone call, Man's walk on the moon, founding of Apple, and cats on the internet.
So, what kind of iTunes announcement could change the course of history? We know that iPod is used on the Space Shuttle. Is iTunes going to be first to feature extraterrestrial music? (iTunes already contains Lady Gaga, so that might count.)
We guess that Steve Jobs will announce the iTunes cloud storage, made possible by Apple's billion-dollar data center.
Local times, when the "historic" iTunes announcement from Cupertino takes place on November 16, 2010:
7 AM California
10 AM New York
3 PM London
Midnight Tokyo
Japanese first announcement? Maybe it's the robot Hello Kitty lolcat iTunes, announced by Steve Jobs in haiku form, or cutting edge iPod ninja integrations? Will there be iPad is Delicious spoof? The release of: "iTunes is Historic" TV ad?

Related Posts