25 iPad Interactive Wall, Japanese Video Art
Japanese interactive exhibit is inspired by DJing, made with 25 iPad tablets, has deeper meaning about human's impact on the environment.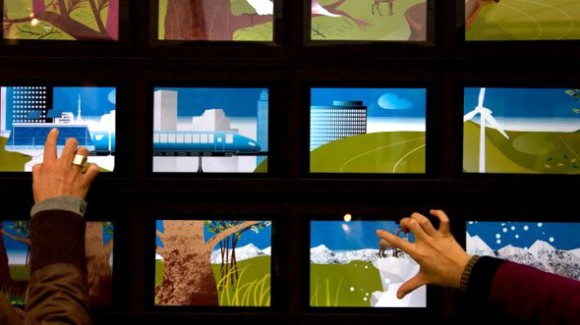 Interactive 25 iPad Wall: Humans Affect the World
The interactive iPad video wall is commissioned by the Environmental Ministry of Japan for the "Challenge 25″ event to mark the 25th anniversary of Tokyo Designers Week. The world of 25 iPads starts out synchronized in harmony, but audience can interact and manipulate their part of the iPad world. The audience can also restore the disturbance of the force of nature:
"Each person is a DJ able to mix the parameters to their liking, so the entire display quickly becomes a mess of inter lapping sounds and out of sync video. This is a metaphor for how us human beings affect the world around us, manipulating our environment and destroying harmony in nature. The challenge was for the audience to work together to get the video back to its original state, back to a more harmonious earth."
25 iPad Wall App Demo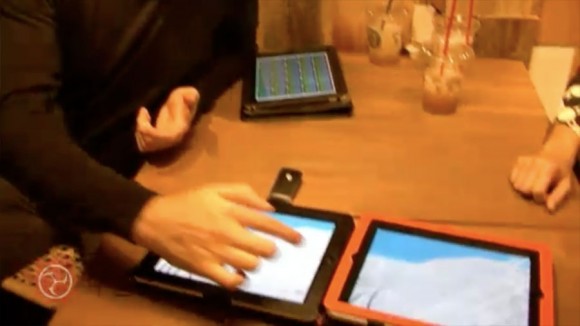 How does the Apple tablet video wall work? The iPads are synchronized with Bluetooth, playing scrolling video recordings. Each iPad allows users to scratch and manipulate the video like a record player. There seems to be a master control / view iPad, which has an overview of all 25 iPad displays, Apple Remote Desktop style.
The interactive 25 iPad wall is created by music composer Taq and Simon Mayer of design firm Visual Catering. iPad App developed by programmer Mui Iwase.

Related Posts