Cut the Rope: Sweet Physics Puzzle Game for iPhone, iPod, & iPad
Do you ever dream of feeding an adorable pet monster some sweet sweet candy? You might, if you play this fun new iPhone and iPad game!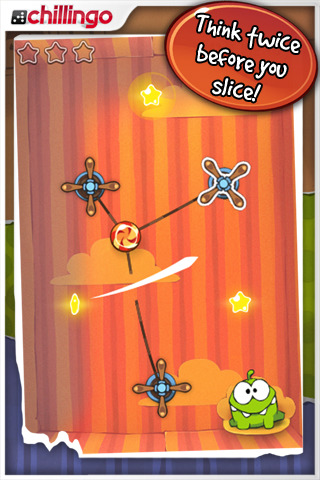 Video: Cut the Rope
OMG candy on a rope! Om nom nom nom.
A new, fun physics based puzzle game that the secret ninja Steve Jobs will definitely enjoy. You got a new pet that loves candy. Feed it by slicing roped candy, using power ups, and avoiding obstacles, while the candy swings on the rope.
Use multi-touch to slash multiple ropes at once and enjoy the accurate physics and gravity. No frustrating iPhone knockoff or iPad knockoff tablet lag should apply.
Verdict? Cut the Rope is a great pickup-and-play game with beautiful design. Worth the download: $0.99 for iPhone [itunes link], $1.99 for iPad [itunes link] for many hours of gravity obeying fun. This awesome game is going up next to Angry Birds on my iPad and iPhone home screen.

Related Posts