Steve Jobs Speaks About iPhone vs. Android, RIM on Apple 2010 Q4 Results
Steve Jobs makes rare appearance on this week's Apple 2010 Q4 financial results conference call. Talks about iPhone and iPad versus competition (with death of 7″ tablets). Audio.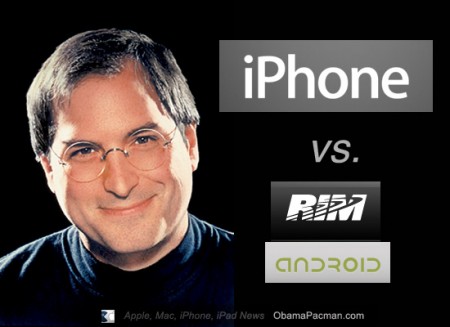 Apple has its first $20 billion quarter, and it's not even the holiday season where there are even more sales!
The hour long Apple Financial Results Conference Call is available here (said to be available for 2 weeks). Steve Jobs describes record iPhone sales. In the quarter 14.1 million iPhone are sold, 91% growth unit growth over year ahead quarter.
About 15:00 minutes to 21:36 on integrated iOS vs. slow RIM and fragmented Android. From 21:37 to 25:50 Steve describes the avalanche of tablets, which are not really an avalanche. Q&A after the Steve announcement, with Steve answering some questions.
Steve Jobs on RIM
iPhone sales exceeded RIM's Blackberry sales. "We now passed RIM, and we don't see them catching up in the foreseeable future." Steve Jobs berates RIM as slow to move into unfamiliar territory to become a software platform company. It will be a challenge for RIM to creative a competitive platform behind iOS and Android, the Apple CEO describes.
Steve Jobs on Google
Last week, Google CEO said they are activating 200,000 android devices per day. In comparison, Apple is activating 275,000 iOS devices per day.
In terms of apps, Apple has about 300,000 apps, while Android has 90,000 apps. (And we all know Apple's app store is more polished).
Steve Jobs also talk about Android fragmented openness vs Apple's integrated iOS:
"Google like to characterize Android as open, and iOS and iPhone as closed. We find this a bit disingenuous, and clouding the real differences between our two approaches. The first thing most of us think about when we hear the word open, is Windows, which is available on a variety of devices. Unlike Windows however, where most PCs have the same user interface and run the same app, Android is very fragmented. Many Android OEM, including the two largest, HTC and Motorola, install proprietary user interface to differentiate themselves from the commodity Android experience. The user is left to figure it all out. Compare this with iPhone, where every handset work the same."
100 different version of Android software on 244 handsets, difficult to test for software developers. In addition Android uses the same PC model as Microsoft's failed "open" Play for Sure strategy.
"Even Microsoft abandoned this open strategy in favor of copying Apple's integrated approach with their Zune player, unfortunately leaving their OEM empty handed in the process."
Steve Jobs believes that when comparing fragmented vs. integrated, integrated will win. Software maker for integrated system can spend time creating innovative, instead of testing on a fragmented system.
Steve Jobs on 7″ Tablets
Steve Jobs on iPad tablet competitors: "Current crop of 7″ tablets will be DOA, death on arrival."
Almost all of them use 7″ screens. The screens are about 45% as large as iPad's 10″ screen. Thus, 7″ tablets are too big to compete against an iPhone and too small to compete with an iPad.
But Google is telling tablet makers to not use the current Android on tablets. "What does it mean when your software supplier tell you not to use their current software, and what does it mean when you ignore them anyway?"
In comparison, with only two quarters after iPad is released, about 2/3 of Fortune 500 Companies are already piloting or adopting iPad.
iPhone vs. Android Sales, OP Analysis
What does the iPhone sales mean?
The reports of iPhone's death are greatly exaggerated.
Android claims that it has surpassed sales of iPhone in the US (not world wide), implying that growth of iPhone is over. Fandroids hope to paint a picture where their knockoff platform overwhelms the iPhone, a repeat of Windows vs. Mac OS market share in the 90s.
Too bad those people are clueless about important historical details, mainly, computer OS platform is different than the smartphone market.
In the late 80s, IBM, the big blue computer monopoly, afraid of Apple and the intuitive Mac OS, basically gave Microsoft its PC monopoly. In contrast, there is no major smartphone monopoly willing to give its market to Android. Nokia and RIM both control their own OS and hardware. They are not going to use someone else's OS. They are not going to pay Google a licensing fee to put Google Apps on their devices.
Instead, Android is chipping away at other platform sales, not Apple's iOS sales. Otherwise Apple iOS would not have grow 90% year over year.
via Apple, Earnings 4Q 2010
(Only available temporary)

Related Posts