Steve Jobs Apple VP Business Card, Circa 1979
Thirty+ year old business card of Steve Jobs, as Apple Vice President of New Product Development.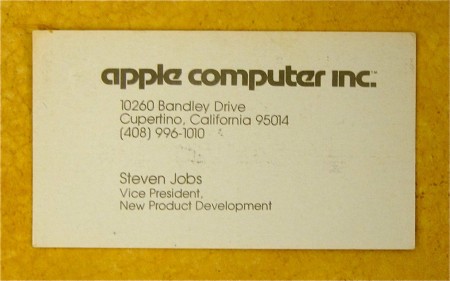 The address listed, 10260 Bandley Drive, Cupertino CA, is a street from the current Apple campus at 1 Infinite Loop.
In the era before the first Mac, back in the days when typography is rare for the general public to utilize (the Mac, which popularized desktop publishing, has not been released yet), this is Steve Jobs' Apple business card.
This business card contains a futuristic Apple Computer Inc. font at a time when design and style in is a luxury.
What, no rainbow Apple logo? When business letterheads were almost all black and white, Steve wanted to stand out with rainbow Apple logo, along with expensive colorful logo stationary. But looks like the penny pinchers who later kicked him out of Apple probably made Steve use these black and white business card instead?
I wonder who will answer that phone number? Do you think it'll go to Steve's bat cave?
It's photographed by entrepreneur and Director of Mozilla Labs Pascal Finette, who describes his find to ObamaPacman:
"I took the photo after a colleague brought the card into work the other day – the phone number on the card is still Apple's main switch board."
Pascal describes to ObamaPacman that even though there is no colored Apple, Steve still has embossed Apple logo bling:
"By the way – the one thing you can't see on the picture is the fact that the business card has an embossed Apple logo!  So they definitely went all way out and spent quite some serious cash on their business cards (which doesn't surprise me with Steve)."
Apple CEO Secret Identity: Steven Jobs
The business card also reveals the secret identity of the current Apple CEO as "Steven" Jobs. His full name is actually Steven Paul Jobs, here's a signature from wiki:

tantek via weloveapple

Related Posts