Adobe + Microsoft: Faltering Companies Might Seek Merger
News of possible merger with Microsoft and Adobe executives in Madrid. Bonus, Microsoft CEO Steve Ballmer comment fail.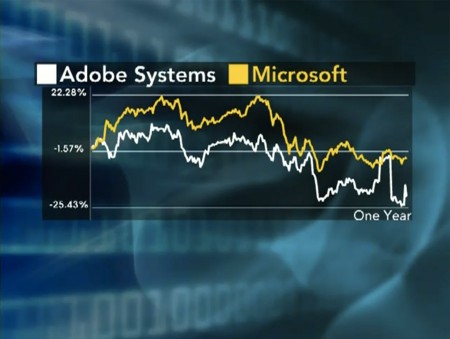 Video: Steve Ballmer on Microsoft Adobe Merger
Exclusive Bloomberg video of Steve Ballmer. Look at when the reporter said: "Adobe stocks surged on that news" in the beginning of the video:
Here's the OP best effort at making a Steve Ballmer transcript: "Well, no comment. We got a bunch of CEOs in the audience. Dude, does anybody ever comment about any private. If you gonna do something, you say nothing. And if you gonna do something, you say nothing. So, I'll be entirely consistent with Standard CEO operating procedure."
Ballmer, the Microsoft CEO looks like an extra drunk mosspuppet. Good job that he forgot to say if you are "NOT" going to do something. Seriously, is Steve Ballmer making sure he's the CEO of Microsoft? Is he thinking: Am I still the Microsoft CEO? I am surely glad I befriended Bill Gates in my college dorm, because I seriously didn't get here due to my intellect.
So is Adobe and Redmond company merger going to make this even more bloated software: Microsoft Silverlight and Adobe Flash Live Premium Business Edition for Windows?

Related Posts