Spooky Resemblance: Steve Ballmer Frankenstein Monster
Microsoft current CEO Steve Ballmer needs no Hollywood makeup to look like the clueless Frankenstein monster.
Steve Ballmer Frankenstein Monster
Here's a Ballmer Frankenstein monster comparison made by Macenstein: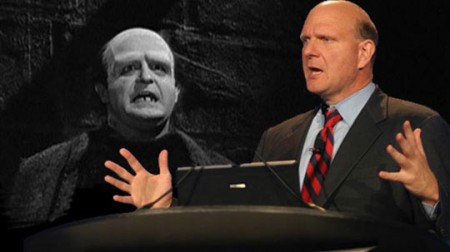 So which one is Ballmer?
Spooky: Windows Users Persuaded by This Microsoft Ad
Bonus: footage of a younger, but still oafish Steve Baloney Ballmer selling Windows 1.0 for 286 beige PC:
Looks like the same people who fall for used-car-salesman pitch are also easily persuaded to buy Windows. Well, at least it's better than Vista. Except in Nebraska.
Are you scared or what? Happy Halloween.

Related Posts