Sign My iPad, Prez! President Obama Signs One Lucky iPad
Sign My iPad, Prez! Sylvester Cann brought his iPad to meet the US President to get it signed. Internet meme in the making?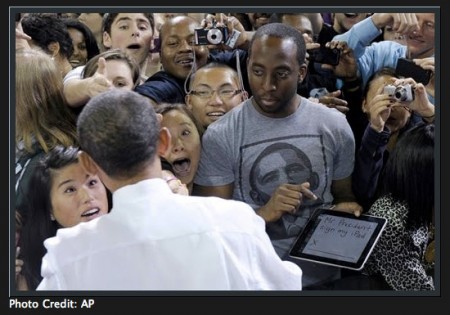 Sign My iPad, Prez!
This iPad and Obama fan has a smart way to collect the first Presidential Obama iPad signature:
"At a rally in Seattle at the University of Washington, the President signed his autograph on my iPad using the Adobe Ideas app." Described the sly Sylvester. "Generally, the President doesn't sign autographs along the ropeline because pens can be used as a weapon, so I thought I would try to hand him my iPad with a message on it saying, 'Mr. President, sign my iPad'."
Here's the result, an authentic signature by the President of the United States: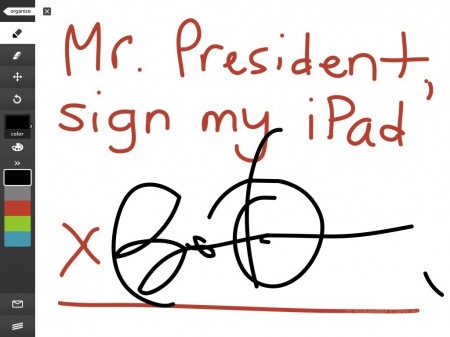 Video: President Obama Meets iPad Signature Guy
Here's a video of Sylvester Cann with President Obama. Video didn't show much except someone over looking his shoulder.
Adobe Ideas App [itunes link] is Photoshop lite for iPad and one of the popular drawing apps for iPad. It is also used by a number of iPad enterprise users.
Is it a case of good idea meets iPad?
via obamasigningipad

Related Posts