MicroSim Cutter for iPhone 4, iPad 3G (On Sale!)
If you are trying to cut your SIM card down to a MicroSim, forget exacto knives or scissors. Just order this MicroSIM Cutter, on sale for $12.47!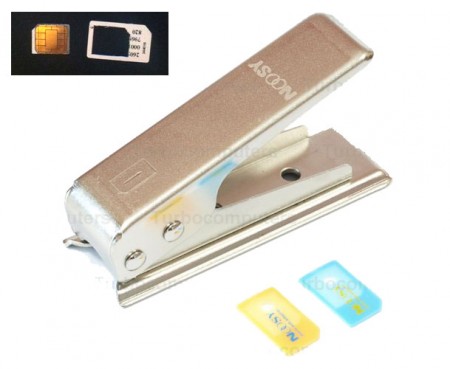 iPhone 4 and iPad 3G uses MicroSIM, a smaller version of a standard GSM SIM card. DIY SIM to Micro-SIM conversion is free, but harder than it looks. We've tried it on a old sim card and our results are not so good. And if you cut it wrong, you have to go to the wireless store and buy another sim card.
So, if you want to minimize the risk breaking a perfectly good sim card, then this is for you. Micro SIM Cutter works similar to a hole puncher. Put your sim card in, press down, and get a pretty good cut.
Video: MicroSim Cutter
Microsimcutter.com has a version for $29.95, but we found the Noosy Micro Sim Cutter currently on sale for $12.47 here: [amazon
].

Related Posts