iTunes 10 Mod: How to Remove Ping Drop-Down Menu
How to remove iTunes 10.0.1 Ping drop-down menu? Here's an easy way, if you got a Mac.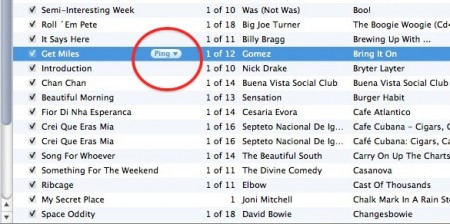 The iTunes 10.0.1 update adds Ping drop down to all the songs in your library. But what if you don't want it?
Remove iTunes 10 Ping Drop-Down Menu
iTunes Ping has two components, the Ping sidebar and the drop-down menu. The Ping sidebar can be removed with a click, but the drop-down menu needs a quick trip to the Mac OS terminal:
Quit iTunes. Open Terminal (Mac only).
Copy this line (in one line), and hit enter: defaults write com.apple.iTunes hide-ping-dropdown -bool TRUE
You might need to authenticate. When you open iTunes 10.0.1, the Ping drop-down menu will be gone.
Repeat the command with FALSE instead of TRUE at the end, if you want to bring it back.
via cultofmac
You are reading '
iTunes 10 Tips
' read more from this series:
iTunes 10 Mod: How to Remove Ping Drop-Down Menu

Related Posts