iPod iPhone Coffee Table Evolution
Live in an iHouse? Got a Mac, iPod, iPhone, and iPad? What about an Apple inspired coffee table?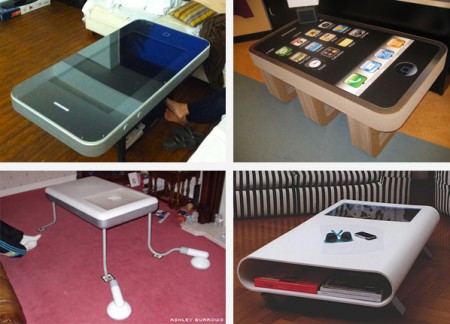 iPod iPhone iFurniture
Evolution of iPod & iPhone iFurniture. Newest one on top.
Upper left: iPhone 4 Coffee Table, described as custom-made with glass and possibly metal "antenna" side
Upper right: iPhone 3G coffee table, created by Tuan Nguyen, is made of corrugated cardboard and white glue. Uses iPhone app coasters
Lower left: iPod 4G Coffee Table created with 30 hours of labor by Ashley Burrows using MDF, pine, & perspex. iPOd earbuds as feet
Lower right: iPod Mini Coffee Table made by Italian industrial designer Mirko Ginepro from corian, glass, and steel
What will make it better? It'll be awesome if these coffee tables add multi-touch controls for Mac and Apple TV. Quick, someone make a giant iPad version.
via cultofmac

Related Posts