iPhone Fell 100,000 Feet and Survived! Space Flight Video
That's one way to drop an iPhone! Video journey of iPhone launched to the edge of space and its return to earth from 100,000 drop.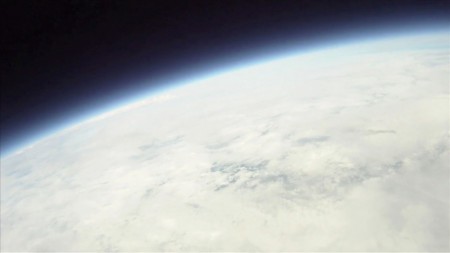 Video: iPhone Space Balloon
Dreamed of visiting space, Seven year old Max Geissbuhler and his dad made a DIY spacecraft, with iPhone as cinematography payload. The iPhone camera spacecraft took them 8 months to build, and here's their stunning amateur space footage trip:
The iPhone space balloon housed the Apple phone, GPS equipment, and hand warmers in an insulated casing made for the flight. The space balloon went up to the stratosphere, edge of space in just about an hour.
After the 19 miles high (over 100,000 feet) flight, the high altitude balloon bursts. It then "rockets down to earth at 150 miles per hour, with the parachute deployed." Whole video is captured by the iPhone. It's almost as good a view as NASA space shuttle astronauts.
The iPhone space craft was found 25 miles from launch site in tact. So much for Apple specs "Maximum operating altitude: 10,000 feet (3000 m)."
Get the entire, uncut 90 minute Space Balloon film for $25 from: Brooklyn Space Program.
via macrumors forums

Related Posts