iPad Does Hollywood
iPad invades Hollywood. People from film makers, producers, screenwriters, to actors and actresses use the Apple tablet to save time, save money, and improve work flow.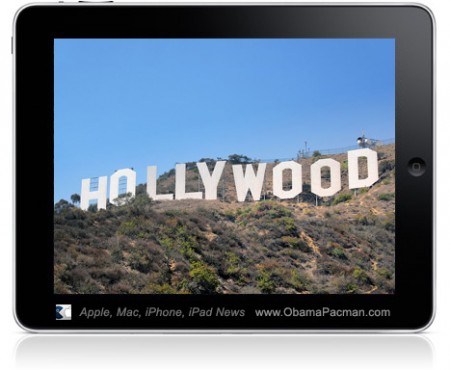 iPad, released only 6 months ago, is seeing rapid adoption in government, enterprise, and various other industries. Hollywood is no different.
Some Hollywood examples. Robert Orci uses iPad with with producers J. J. Abrams, Damon Lindelof, and Bryan Burk. Paula Abdul uses an iPad to preview her new dance show for prospective sponsors.
iPad has made plenty of TV appearances so far, including on NBC show "The Office", ABC show "Modern Family", CNBC talk show "Fast Money," Comedy Central "The Colbert Report", and over 2,000 appearances on various shows.
iPad Saves Paper
The Apple tablet can "drastically reduce the amount of paper that is wasted on script rewrites" describes Hollywood converts to the iPad.
"Battle tested" on shows like Heros, LOST, Desperate Housewives, Psych, Gigantic, and more, iPad (and iPhone) App Rehearsal [itunes link] even helps actors and actresses learn their lines. Rehearsal is a relatively pricy app that is free for first 30 days.
John Carroll Lynch is said to "swear by" Rehearsal he also plays Madden 2011 [itunes link]. Other Hollywood notables sometimes play games such as Angry Birds on their iPad during break times.

Related Posts