iOS 4.1 Untethered Jailbreak: PwnageTool Mac Download
Download the newest untethered iOS 4.1 jailbreak software: PwnageTool for iPhone 4, iPod 4G, iPad, & Apple TV 2G.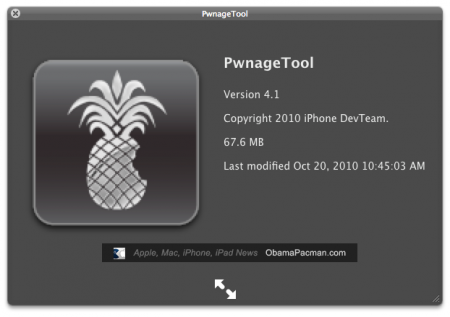 Thanks to the unofficial iPhone dev team, iOS jailbreak tool PwnageTool is released, hopefully won't be pwned by Apple announcement later today.
iPhone 4, iPod touch 4G, iPad, Apple TV Jailbreak
A combination of Limera1n and Pwnage2, PwnageTool 4.1 works untethered on these devices with iOS firmware 4.1:
AppleTV 2G
iPad (firmware 3.2.2)
iPod touch 4G
iPod touch 3G
iPhone 4
iPhone 3GS
iPhone 3G
There's an improved DFU mode.
iPhone Users
For iPhone users, PwnageTool 4.1 is better than limera1n, greenpois0n, redsn0w. Why? To keep the ultrasn0w iPhone carrier unlock, people need to preserve the current baseband.
There's also an improved expert mode where you select the exact IPSW firmware file (no need to wait for automated firmware search). In Expert mode, the default is to hacktivate ("Activate the iPhone"), so if you have a legit SIM card be sure to deselect that option in Expert mode.
You can also restore to pre-jailbroken firmware while simultaneously maintaining your current baseband.
Apple TV Jailbreak
AppleTV users can only access stuff through the command line via ssh. Apple TV 2G users need to change THE default SSH password of alpine after jailbreak.
Download: PwnageTool iOS 4.1 Jailbreak Software
It's likely the software will be updated for improvements, so we are going to wait a few days before trying this out. UPDATE: Now 4.1.1 available. Here are some mirrors of the latest downloads as of October 22, 2010:
31.5MB download. Copy PwnageTool to your Applications folder. Do not launch from disk image.
Download at: iphone-dev

Related Posts