Geohot Releases iPhone 4.1 iOS Jailbreak Limera1n Download
Today, "retired" jailbreaker Geohot emerges from the shadows to release the Limera1n jailbreak for iPhone 3GS, iPod Touch 3G, iPad, iPhone 4, iPod Touch 4G firmware 4.0-4.1 and beyond+++. Green poison jailbreak download faces possible delays.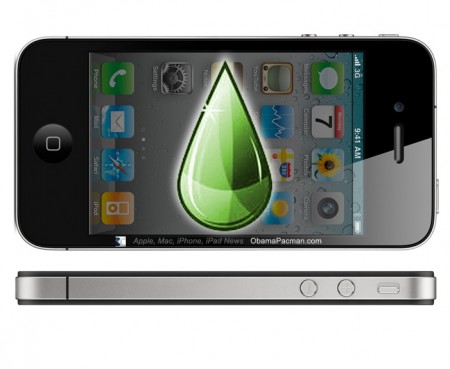 Today's iPhone and iPod touch 4.1 firmware Lime Rain jailbreak is not by the adorable Limer.
Geohot Limera1n iPhone 4.1 Firmware Jailbreak
Geohot, who recently quit the iPhone jailbreak scene by removing his twitter account, is back for now. Originally Limera1n is reported to be released on 10/11/10, the 1 year anniversary of blackra1n Oct 11, 2010 release date. But on the eve of the greenpois0n / SHAtter jailbreak, Geohot released his own iPhone 4.1 Limera1n jailbreak:
"Limera1n is unpatchable untethered thanks to jailbreakme star comex / released today to get chronicdev to do the right thing / brought to you by geohot."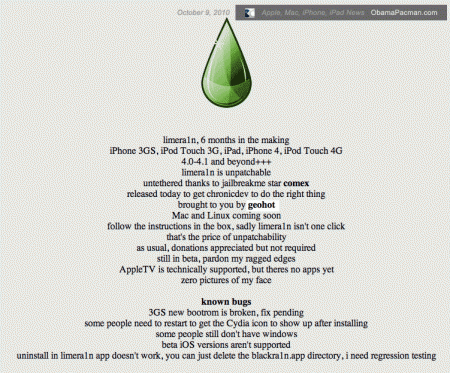 The Limera1n iOS 4.1 jailbreak download is currently Windows only. Mac and Linux download coming soon. It does not support beta iOS such as the iPad 4.2 beta firmware. However, before you head over and download Limera1n (download link below), there are drama and complications:
Beware of Limera1n iPhone Jailbreak?
Looks like Limera1n is rushed out to beat the greenpois0n 4.1 jailbreak release (originally scheduled for the cool 10/10/10 10:10am GMT).
Limera1n is Still Beta
First, Limera1n is still in beta, with a number of known bugs. "Pardon my ragged edges," Geohot wrote.
Notcom / semaphore of thefirmwareumbrella warns not to use today's Limera1n jailbreak: "I warn you. DON'T use limera1n. It is likely to mess up your device since it uses a BETA version of the untether (stolen) from @comex."

MuscleNerd warns: "iPhone3GS & iPhone4 ultrasn0w unlockers: stay away from today's limera1n. Wait for PwnageTool, else you'll lose unlock."

Limera1n Stolen / Broken? Comex Approval
A bit after some drama and reports of theft in hacker land, Comex wrote that Geohot's release now has his approval, after the first broken version is updated:
"Fine, geohot's release now has my approval, because otherwise everyone would use the initial (pulled) broken version. Ugh." However, Comex continues that despite his approval: "I don't guarantee limerain will actually work, though. It also doesn't work on Mac/Linux… or iPhone 3G or iPod Touch second gen…"

Limera1n vs. greenpois0n 4.1 Jailbreak
So, Lime Rain, what does it mean? How does it affect Green Poison? Does it mean double rainbow jailbreak all the way this weekend? Unfortunately, Looks like the greenpois0n with SHAtter will be hold back now. Otherwise the double release of both tools this weekend will waste a potential jailbreak vector, with iPad firmware 4.2 around the corner.
"SHAtter will be held back now, so it's not the worst possible scenario. Who knows, maybe SHAtter can even be improved" MuscleNerd described.

With 1 day to go, greenpois0n might even be delayed due to saving of the SHAtter jailbreak exploit to use later.
Limera1n iPhone 4 Jailbreak Download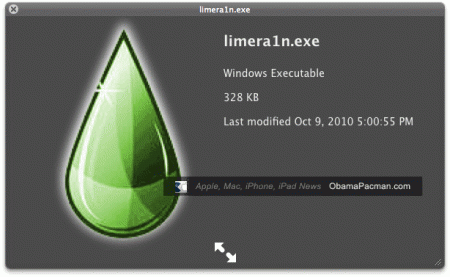 Limera1n from Geohot is a 328 KB download: here. Use at your own risk.
Fake Geohot / greenpois0n Jailbreak Download
Tip: Geohot is not on twitter. Don't fall for imitations. Watch out for fake Limera1n sites too.
There are still plenty of fake jailbreak sites pretending to be the official site, such as this fake greenpois0n site, and QuickPWN, which pretends to have its own greenpois0n download page.
For the real story, follow us to get the latest news.

Related Posts