Download: Apple Back to Mac Special Event Video
Download / watch the October 20 "Back to Mac" Apple special event, presented by CEO Steve Jobs.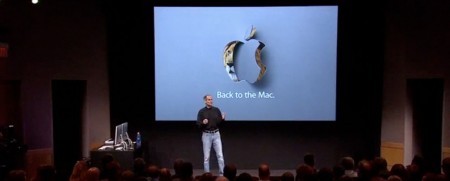 The special event where Steve Jobs, Apple executives and engineers demoed iLife 11, Facetime for Mac, Mac App Store, Mac OS X 10.7 Lion, and special "One More Thing" 11 and 13-inch MacBook Air.
Watch Apple Back to Mac Special Event Video
Watch the 90 minute Apple "Back to Mac" Keynote:
Streaming: Watch it on your Mac with Safari 4 or 5 and Snow Leopard. Watch it on your iPhone, iPad, iPod touch with iOS 3 or 4. Download version: any modern video player can play it, on Mac, iOS, or PC.
Steve Jobs on Flash!
Our favorite Steve Jobs quote on MacBook Air (around 76 minutes): "We know a lot about flash. We've designed it into our iPhones, we've designed it our iPads. And as you may know, Apple is the largest user of flash memory in the world."
The Apple CEO is not talking about Adobe. Flash, aka SSD memory for the MacBook Air actually works fast.
Bonus trivia not in the keynote: The new MacBook Air does not have Adobe Flash installed. Do you think that is the reason it gets a good battery life?

Related Posts