DIY Mac Tablet: $50 MacBook Mod
Not an iPad: DIY Mac Tablet, the MacBook with touchscreen mod can play Starcraft 2, has gesture handwriting recognition.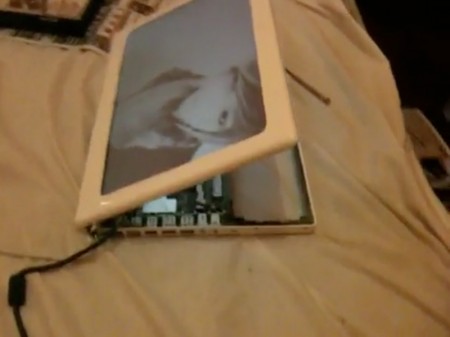 The MacBook touch is a creation by Matt at Enigma Penguin. Basically he fused a USB touchscreen overlay to his white MacBook to create his Mac Tablet. Resistive touchscreen cost? $50, with Mac OS X drivers. Has 4 point of 24 point calibration.
It involves dismantling the MacBook, cutting, and re-routing cables, so this DIY Mac tablet is not for the faint of heart. In videos, the MacBook tablet creator tested hand writing recognition, and even played Starcraft 2 on it. It's "slightly" larger than the Apple iPad tablet.
Video: Mac Tablet Starcraft 2 Demo
Video: Mac Tablet Starcraft 2 Demo
Video: Mac Tablet Handwriting Tests
Handwriting tests of the Mac OS X built in gestures with the MacBook tablet:
Some problems he solved: The screen rotation is software controlled, and the on screen keyboard launched with Apple script. Originally, the touchscreen becoming active while transporting (it's always on). But he build a dongle for the headphone port to disable the touchscreen display. The touchscreen control is currently plugged into the USB port, but will be soldered later.
That's pretty neat. But would you rather have this or the iPad with 10 hour battery?
For a commercial solution, you can get an Axiotron ModBook Mac tablet, starting $899 on top of the MacBook / MacBook Pro. For the DIY MacBook touch steps, check out Matt's website.
Enigma-Penguin via giz

Related Posts