Battle of the App Store, Mozilla HTML5 Style
A day before Apple introduces the Mac OS X App Store, Mozilla corporation, creator of Firefox browser, introduces their "Open Web Apps" concept.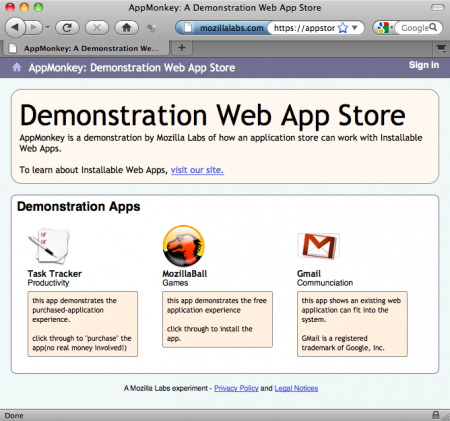 Video: Mozilla / Firefox Open Web App Store
Mozilla uses a Mac to demonstrate its Open Web Apps concept:
Why?
In May, Google announced that their Chrome Web Store would be opening "later this year." Although Google describes that the web apps are built with standard web tools and technologies, a number of their web app features are for Google's own Chrome browser only (hint: the future of Google platform is Chrome OS). A day later, Mozilla declared that they will create an open version of Google's proprietary Chrome web store.
The Mozilla version isn't a distinct app store (aka Apple iTunes) though. Mozilla aims to create a open platform with apps built from standard web technologies, like HTML5, which would work across all modern browsers. There will also be apps, both free and paid.
Unfortunately, the Mozilla web apps demo store is barren with no real apps at this time, but definitely an interesting concept that provides more options from Google.
P.S. Apple owns the "App Store" trademark in the US, might want to change that.
mozillalabs via Pascal Finette, Director of Mozilla Labs

Related Posts