Apple TV + Apps = Game Console? (Coming Soon?)
The new Apple TV can load iOS apps! Is it an Apple gaming console in disguise?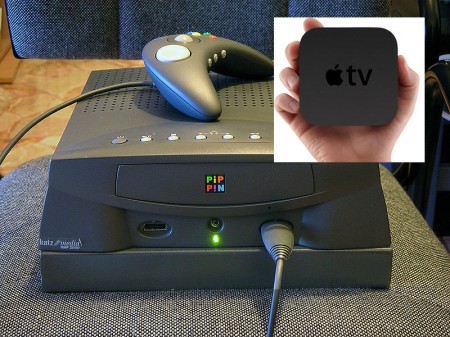 The 2010 Apple TV 2G can be added to the provisioning portal, which means it can install apps:
"You can definitely add an AppleTV to the provisioning portal, and if you give an app a UIDeviceFamily of 3 it will install on it when signed." Described @stroughtonsmith.

Hackers will likely to release an Apple TV jailbreak. They just have to solve the problem of no app loader on the Apple TV, currently running Lowtide media player app (slated to be ported to iPad).
Apple Video Game Console
Apple Pippin is a video game console / computer that was released around the era of the Apple Newton PDA, while Steve Jobs was ousted from Apple.
So, what do we use for controllers? Do we need wrist straps so we don't have Wii style mishaps? When will we see the headline: "Hacker Turns Apple TV into Game Console?" Do you think iPad iOS 4.2, scheduled to release right before the holidays season, has a secret killer feature?
@stroughtonsmith, via giz

Related Posts