Apple Stock Hits Record High
Investors not impressed by Microsoft Windows bloated button Phone 7, sending Apple stocks to record high.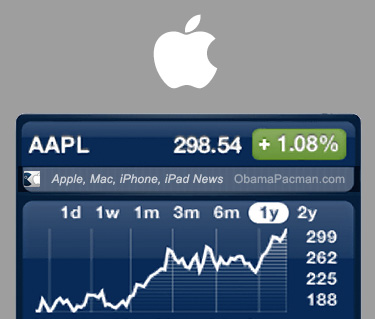 Apple, the maker of the popular iPhone, iPad, iPod, and Mac, hits record high in stock price today. AAPL hits $299.50 briefly today, ending the day in $298.54 per share.
Apple is the second largest company in the world by market capitalization / company value, just behind Exxon.
With a serious of recent blunders including the Windows Phone Kin, Microsoft closed the day at $24.83, near its 52 week low of $22.73.
Apple vs. Tech Market Cap
Market cap of Apple against some of the other technology companies:
Apple 272.74B
Microsoft 214.87B
Google 172.54B
HP 93.77B
Nokia 40.82B
RIM 25.99B
Motorola 18.97B
Adobe 14.07B
When do you think Apple can buy Microsoft?

Related Posts