Apple Disses Tablet PCs in New MacBook Air Ad
Apple executives describe the iPad-inspired next generation of MacBooks / Apple notebooks, diss Windows tablet PCs.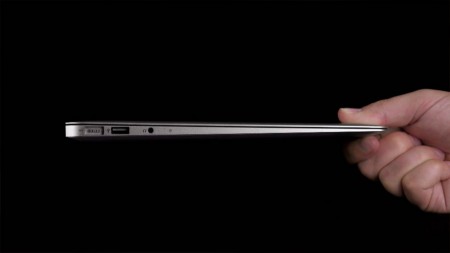 Apple MacBook Air Ad
Apple reveals some of the engineering, design, and usability decisions that are integrated in the new MacBook Air:
Senior Vice President of Design Jony Ive, Senior Vice President Worldwide Product Marketing Phil Schiller, and Senior Vice President of Hardware Bob Mansfield describe the newest Apple laptop.
OMG Apple embraces Flash! (The fast SSD kind, not the slow proprietary software that drains battery life and heats up your computer).
The new MacBook Air is a computer that is instant on, with all day battery life, silent operation, large multitouch trackpad, full-size keyboard, designed completely around SSD flash storage.
Apple Executive Disses Tablet PCs
Around 1:14 into the MacBook Air video, Phil Schiller explains why Apple didn't simply make a laptop with a touch screen:
"The key thing we learned is touch is extremely important on how we interact with our software. If we tried to built it into the display, we discovered that it's not in an optimal position. You don't feel comfortable holding your hand up in the air to try to multitouch."
So much for the bulky, slow, and unergonomic touchscreen tablet PC laptops. that Bill Gates championed. And we thought the failures of tablet PCs are only due to running Microsoft Windows.
Apple, this changes everything. Looks like a blockbuster year with the iPad, iPhone, iPod touch, and the new MacBook Air.

Related Posts