Apple Awarded 2006 Pinch to Zoom Patent
iPhone & iPad knockoff makers beware. The now ubiquitous pinch to zoom multitouch gesture was first patented in 2006 by Apple.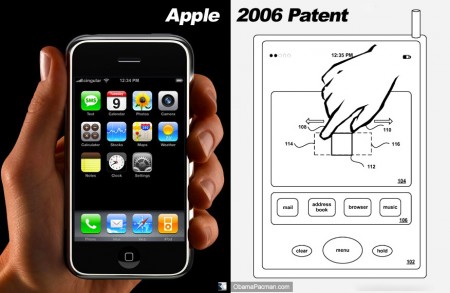 Apple Granted Secret 2006 Pinch to Zoom Patent
One of the best kept secret patents in the world revealed.
4 years after Apple secretly applied for a form of multi-touch pinch to zoom patent, and before knockoff makers saw the revolutionary iPhone, that patent for portable electronic device with multi-touch-sensitive display has just been awarded to Apple. This week, US Patent and Trademark Office officially published a series of 18 newly granted patents for Apple, including a number of multi-touch patents.
The newly granted patents also cover the some of the technology that makes the mobile Safari web browser work intuitively on the iPhone. Apple has won method to displaying a Web page on a portable electronic device, such as "automatically scaling the Web page to display the entire Web page in a display window."
Keep in mind that back in the days before the iPhone release (and even today with a number of phones), it's a chore to browse the web on mobile phone / mobile devices. But after the release of the Apple revolutionary smartphone, how the web browser works on the iPhone is now widely copied, infringing on Apple's patents.
More Apple Multi Touch Patents?
But how can Apple prevent another Microsoft from copying Apple innovations and run the Cupertino company out of business?
"BOY have we patented it." It seems that Steve Jobs was not bluffing when he said at the 2007 MacWorld iPhone launch that Apple has patented various aspects of multi-touch:
"We have invented a new technology called multi-touch, which is phenomenal. It works like magic. You don't need a stylus. It's fare more accurate than any touch display that's been shipped. It ignores unintended touches; it's super smart. You can do multi-finger gestures on it, and BOY have we patented it!. " Steve Jobs announced at the 2007 Apple iPhone Keynote.
With the slow approval of patents on the various aspects of the Apple iPhone, it's expected that Apple has patented other modern technology made popular by the iPhone.
Apple knockoff makers hoping to use retail Apple products as R&D to make an inferior version of an Apple gadget for a little bit cheaper or a bit more "open" (translate: unpolished), might be in for a shock.
USPTO Patent 7,812,826 is originally filed in Q4 2006.
Apple Mobile Device Multi-Touch Input Patent
Apple is also granted a patent on intuitive hand configurations and motions that integrates different type of inputs on a multi-touch surface. Patentlyapple describes that it "enables unprecedented integration of typing, resting, pointing, scrolling, 3D manipulation, and handwriting into a versatile, ergonomic computer input device. " Basically, it's how the iOS in iPhone, iPad, and iPod touch brings up contex-sensitive keyboard or input devices / interface elements depends on what's appropriate. Patent 7,812,828 filed in Q1 2007 is granted this week.
Years later, the Microsoft's slow slate still has not successfully copied that Apple technology. Demo of the still unreleased HP's late Microsoft Windows 7 tablet requires toggling hardware button to bring up the keyboard, making the Microsoft iPad knockoff difficult to use.
Microsheep using Microsoft Windows 7 slate tablet are expected to press on the screen (sometimes multiple times), then again press a hardware button every single time the user wants to input text, such as browsing the web, reading and modifying documents, etc., etc., etc. But of course, they can't think a better way without copying Apple.
Via patentlyapple

Related Posts