Apple Announces Mac App Store (90 days!)
The popular iOS App Store for iPhone, iPod touch, and iPad has revolutionized mobile application distribution. Now the easy-to-use system is coming to Mac OS X.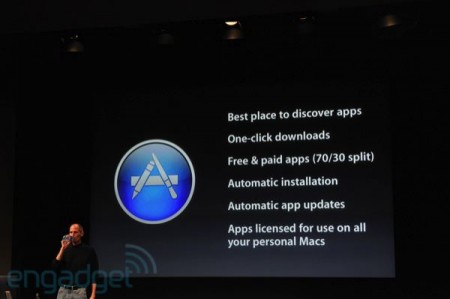 Further turning the Mac into a giant iPhone (just kidding, Steve!), App Store for Mac will soon be available for OS X. This further clamps down on possible non-existing malware vectors for Apple computers.
The store will be available for Mac OS X 10.6 Snow Leopard within 90 days, and will be part of 10.7 Lion. That means all Intel Macs have access to the new Apple Mac App Store, which Steve Jobs describes will be:
Best place to discover apps
One-click downloads
Free apps
Paid apps (70% goes to developer)
Automatic installation
Automatic app updates
Apps licensed for use on all your personal Macs
There will be multi-touch gestures, full screen apps, auto-save, apps resuming, and more. The App store is a standalone app that looks similar to iTunes. Apple is taking app submissions starting in November. App Store for Snow Leopard is currently expected in 90 days.
via engadget

Related Posts