Android Not Open, iPhone Jailbreaker Reveals
iPhone jailbreaker / modder Saurik of Cydia answers rabid Fandroid myth.
Android Open?
Is Android more open than Apple iOS? Not exactly. Saurik cuts through the Google marketing speak and tells the truth: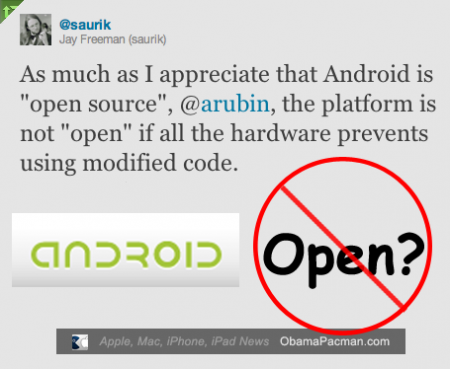 "As much as I appreciate that Android is 'open source,' the platform is not 'open' if all the hardware prevents using modified code."
What does it mean? Although Android is advertised as being open, Android hardware maker can lock down the device, and they do. Here the ObamaPacman take:
Android is so open, most users are running outdated software, with no chance to open to current firmware. That means no more app updates (for security or features) for many users.
Android is so open, carriers and device makers force Android users to use proprietary user interface, preventing Android users from modifying the software. (For example, Verizon forces Bing search engine on some Android users).
Android devices cannot include standard Google apps without paying Google. Thus, low end devices often don't have standard apps.
Translation, Android is open for complete carrier control of user experience (aka bilking more money from paying Fandroids). That's surely one open platform. Open to Fandroids.
via @saurik

Related Posts