58″ Multitouch Tablet is Giant iPhone 4
Giant iPhone 4 changes everything, big time!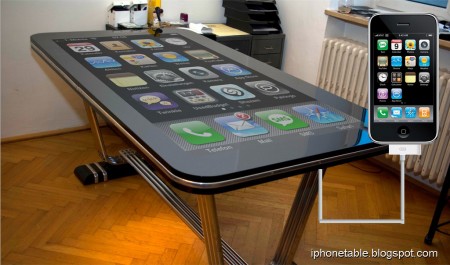 The next step of the iPod / iPhone evolution? Or leaked Steve Jobs iPad iPhone Keynote? A giant iPhone 4 table / tablet with a multitouch display! The iPhone tablet prototype is said to be connected to a real iPhone.
iphonetable describes that "Table Connect" for iPhone is multitouch on steroids, they are currently finishing up on the alpha release software for the table. iPhone is attached via the standard dock connector, which projects the iPhone display onto the multitouch table. The iPhone requires a jailbreak.
Almost perfect for real life Angry Birds (might need to lower it slightly for those 80CM creatures).
As pointed out in discussions:
"Flashlight app would make it a tanning bed."
"You can play angry birds with your face…or your butt. I can see the stock for "Windex" going up as I type this."
There is currently no video that shows the 58″ iPhone table multitouch tablet in operation. So, early April fools or real? What do you think?
iphonetable via engadget

Related Posts