Windows Virus "Here You Have" Attacks PC Users Globally
PCs around the world running Microsoft Windows and Outlook email software are affected by the latest Here You Have virus.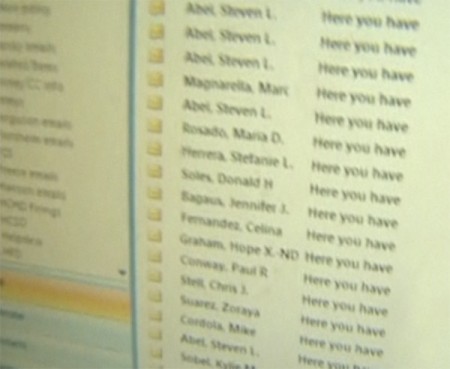 In the past 24 hours, world-wide assault of the email trojan "Here you have" affects PCs at large corporations such as NASA, Wells Fargo, Comcast, Procter & Gamble, Dow, and Coca-Cola.
Video: Here You Have Email Virus / Trojan
Basically, PC users with Outlook get an email with an attachment "Here you have" from people they know, thus they open the email, propagating the threat. Is it a virus or a trojan? Network TV calls it a virus because it's more catchy.
Adobe Related?
FYI, even though many security problems are due to Adobe software, this problem not Adobe Acrobat related (an article by KTRK, an ABC affiliate, mentioned Adobe for no reason). The malicious file spread by "Here You Have" emails have a .scr (screensaver) extension, not used by Adobe files.
So, how do you solve it? There are different options, such as, don't open email with attachments named "here you have," even from people you know.
Or you can get a Mac, which has low ownership cost and industry-leading high user satisfaction:
via ABC

Related Posts