Wild Angry Birds Food Art
iOS game Angry Birds as tasty breakfast, created for iPhone fan Shirley Sirivong.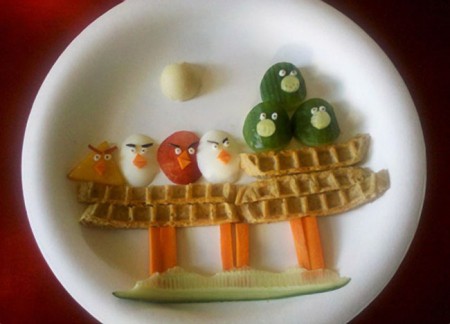 Angry Birds Food Art
Edible version of real life Angry Birds!
The adorable plate of Angry Birds inspired breakfast art is created by a man for his pregnant wife's special dieting restriction. The healthy breakfast for Shirley Sirivong is limited to egg whites, wheat bread, peanut butter, and a few fruits and veggies.
Her husband gets more creative with time, making food art from diabetic-friendly ingredients. Looks a bit like bento box art don't you think?
Shirley on the Angry Birds food art: "For those of you who have played a game called 'Angry Birds' on your iPhone or iPad, here is a tribute breakfast. I love playing this game! The birds are on the left and the pigs are on the right. I love that he even made the little eye balls!"
The wild Angry Birds food art is created with pickles, carrots, whole grain waffles, hard boiled eggs as birds, and possibly cucumber as pigs. Yum. Hope those birds don't find out!
Angry Birds: iPhone, iPad, iPod touch Game
If you are feeling like playing some Angry Birds, download it now on iTunes:
iPhone and iPod touch $0.99 [US, UK, Canada, Australia, Germany]

Related Posts