VLC iPad App Review + Download
Review of the free, open-source avi / divx media player for iPad.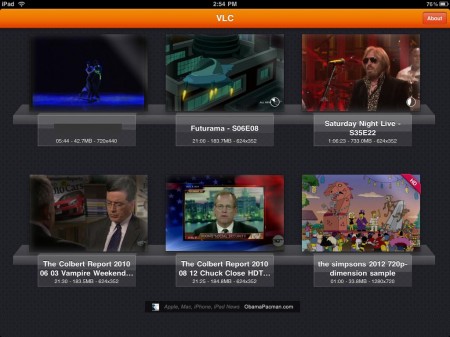 Download iPad VLC App
VLC Player for iPad is released today. Download now: [itunes link]
Update, Jan 2011: VLC download is removed due to vicious Nokia employee. To Play AVI and various types of videos, download CineXPlayer for iPad [App Store, $2.99] or CineXPlayer for iPhone & iPod touch [App Store, $1.99]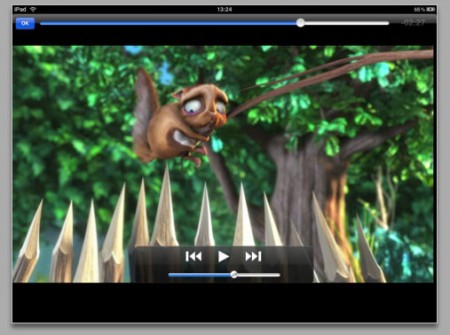 Review: VLC Video Player App for iPad
While Applidium, the VLC iPad app developer did not mention what formats are supported, the desktop version of VLC can play most types of video files includeing: Divx, avi, mkv, H.261, H.263, H.264, Motion JPEG, Theora, WMV, and Real Video.
The iPad VLC app should support some of these formats, if not now, then maybe in the future.
Do you need to jailbreak your iPad to upload these videos that are not supported by iTunes? Nope. How do you load your media into VLC then? Open iTunes, go to iPad, Apps tab, and drag your media into VLC Documents.
Stutters? VLC for iPad Bug
We first tried it with average bit rate standard definition avi / divx files, which iPad plays well.
We ran into a bug with the first install where the VLC iPad app plays with very low frame rate. Videos would stutter with choppy playback. Fortunately, that seems to be a bad download. (Is this the same problem people running iOS 4.2 beta are experiencing?)
How to fix the stuttering VLC iPad App bug:
1. Remove the App
2. Download it again
VLC iPad App, Supported Formats
Tested on iPad on iOS 3.2.1:
Standard resolution divx / .avi files work great. Newer files of say TV shows work well. Older, short clips, are kind of a mixed bag.
Other formats, including HD 720p MKV do not work so well in our test. Doesn't seem to have any support for RealMedia, FLV, and WMV either.
Neat thing: VLC app remembers where you are in the video and shows it with a pie chart overlay.
MP4 Support: VLC Player
Tested with high quality .mp4 / .m4v files. The VLC iPad App does not work with them very well, but the standard iPad video player works great.
(Gizmodo describes that VLC doesn't seem to take advantage of the iPad's MPEG/H.264 hardware acceleration.)
MKV Support: iPad VLC Player
VLC iPad did not play the one 720P mkv sample that we tried. It warns: your iPad is probably too slow to play this movie anyway. If you "try anyway" the unsupported file would run at slide show frame rate. With various media files encoded at various bit-rates, your mileage may vary.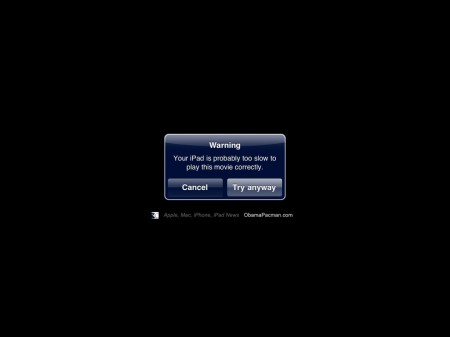 Audio File Support: VLC iPad Player
There doesn't seem to be any support for plain audio files at this time. We tried to add mp3 songs and they did not show up in the play list.
Since VLC iPad App is without folder support at this time you probably would want to use a dedicated music app for that anyway.
VLC for iPhone / iPod touch?
VLC for iPhone and iPod touch is said to be under development. If you can't wait, then download OPlayer for iPhone [itunes link], which supports mp4, h.264, wmv, mp3, aac, wma, real media, flv, rmvb, and avi.
Conclusion
VLC Player for iPad works well with standard definition AVI / DIVX files. However, it doesn't play mp4 videos well (if you got H.264 MP4 / m4v videos, add it to iTunes for native hardware support). There is no audio file support either at this time.
Being a version 1.0 release, VLC Player works well for the limited formats that it supports. We expect VLC Player for iPad will get better over time with more features coming.
Our improvement Ideas:
Ability to delete media within the app
Report unplayable media
Folders or sorting mechanism
Listing of what will play / recommended media (bit rate, format, etc.)

Related Posts