Steve Jobs Resigned From Apple Today!!! (25 Years Ago)
Exactly a quarter-century ago, Steve Jobs resigned his role as Apple chairman. He then went on a 12 year exile from the company he founded with Steve Wozniak in a garage back in 1976.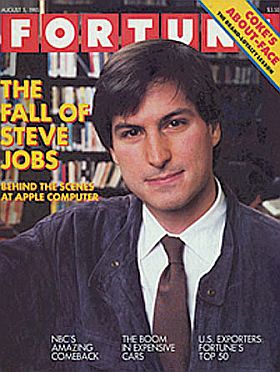 Today is Steve Jobs Apple day: A story with resignation, exile, nadir, and triumph return.
The Fall of Steve Jobs
On September 16, 1985, Steve Jobs left Apple. He was having conflicts with CEO John Sculley, whom Steve poached from Pepsi with: "Do you want to sell sugar water for the rest of your life, or do you want to come with me and change the world?"
Steve Jobs headed the Macintosh team with big ideas and big emotions, but Apple was going in a different direction under the control of a sugar water salesman. Eventually Steve Jobs left Apple.
Steve Jobs Resigned From Apple, Aftermath
After Steve Jobs resigned from Apple, he founded NeXT Inc, and bought the financially failing computer animation studio Pixar from George Lucas.
NeXT Inc.
NeXT provided powerful computers ahead of its time. However, due to non-compete agreement with Apple, Steve Jobs' powerful computer workstations were only available for a very limited high-end market that includes the CIA. NeXT was a technology triumph but a commercial failure due to its limited market and its high-tech high price tag.
Fortunately, smart minds put NeXT workstations to good use, for example, Internet was invented on NeXT computer. The technology developed at NeXT eventually became Mac OS X after Apple bought Steve Jobs' new computer company.
Pixar
During his time running NeXT, the computer animation studio Pixar, Steve Jobs' hobby, became a success.
The group that became Pixar had various rich investors and visionary owners over the years, including George Lucas. But no one was able to make a successful business from its computer animations. But Steve Jobs see value in Pixar. With his negotiation skills, Steve secured a contract with Disney so that Pixar visionary John Lasseter can make full length computer animation feature films.
Pixar almost bankrupted Steve Jobs, but its success brought Jobs new wealth and prestige. Pixar was eventually bought by Disney, with Steve Jobs being the largest share holder valued at multi-billion dollars. Pixar also gave the Apple founder a glimpse of the entertainment industry, years before the copycats such as Microsoft knew where Steve Job is heading in the next two decades.
Return of Steve Jobs
After quite an odyssey running two companies, Steve Jobs returned to Apple on the very same date he left, twelves year later. Apple officially announced on September 16, 1997 that Steve Jobs would serve again as interim CEO.
Now, just over a decade after returning to Apple, starting with iMac, continuing with iPod, iPhone, and iPad, Steve Jobs has finally raised Apple on top of the tech industry. Apple company value has surpassed that of the Big Blue IBM years ago, but Apple finally beats Microsoft in market cap this year, and continues to rise in value.
Dear Steve, congratulations!
- Sent from my Mac, OP Editor.
PS. Someone please gift Steve Jobs some throwing ninja stars!
Sources:
This article is partly inspired by this article and the
Book: "The Second Coming of Steve Jobs" by Alan Deutschman [amazon link
]

Related Posts