Steve Jobs Plans to Build Modest House / iHouse Nano
Apple CEO Steve Jobs plans to build a new, modest iHouse nano at the Jackling House site.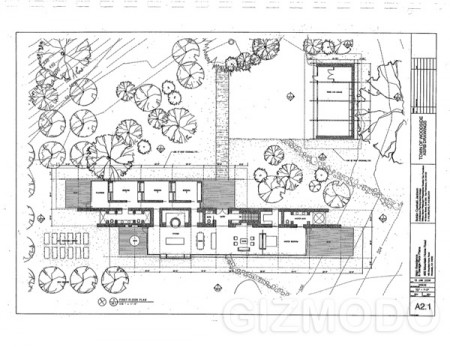 With the issue of the fate of Jackling House demolition finally over, Steve Jobs finally gets to build his tiny house. Not a huge mansion, but a modest 1 story house plus basement.

"According to these initial designs, Jobs intends to populate the 6 acres with an assortment of indigenous flora; a simple three-car garage; a modest 5 bedroom home with plenty of windows and decks; a network of lighted stone walkways; and even a private vegetable garden. Everything is neat, tight, pragmatic, and in its place." Gizmodo describes.
iHouse Nano: Steve Jobs' Utilitarian Home
So, is Steve Jobs on the path to make his house smaller, leaner, more efficient? Is the Apple iHouse nano going to revolutionize the housing industry?
"The site plan definitely shows unnatural restraint for a person of wealth," describes Christopher Travis, managing partner of Austin-based architecture firm. "This kind of thing only happens when the client gives the architect specific instructions to be sparse and utilitarian."
Why not a bath in each of the bedrooms? Environmental psychologist Sally Augustin analyzed: "The careful assessment of needs is evident in the bedroom wing with the shared bathroom – the one with two toilet/WC rooms… This design is very efficient and more economical than bathrooms for each bedroom."
An efficient product? Does that sound like the current Apple philosophy?
Steve Jobs House vs. Bill Gates Mansion
Steve Jobs has a net worth of $6.1 billion dollars, and is ranked the 42nd richest American by Forbes. For someone who is in the top 100 richest person in the world, he's building a tiny house. Steve Jobs' iHouse nano is priced to be $8.45 million, including cost to demolish the old Jackling House.
In contrast, Bill Gates, former CEO of Microsoft, lives in a mansion assessed at around $150 million. Bill Gates spends $1 million on property tax alone each year on his McMansion / Microsoft Mansion.
Steve Jobs currently lives in an even more modest house in the San Francisco area. Estimate time to raze his old house and to build his new home is around 22 months, but a more detailed plan is required before Steve Jobs starts building the brand new Apple iHouse nano.
So, who is up for an Apple iHouse?
Update:
The blueprints are fake. Explained.
via gizmodo

Related Posts