OMG… Tiny Pony, Apple Store Has It!
I'm on a Mac! I'm off a horse! Tiny little miniature horse at the Apple Store. Photoshopped?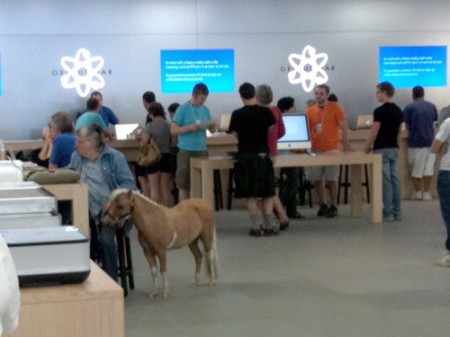 Apple Store has seen wedding, trees, celebrities such as Angelina Jolie, Kiefer Sutherland (Jack Bauer / 24), and Oprah + Bono, but what about a miniature horse?
Tiny Pony Mystery at the Apple Store
Frank Chimero was at the Apple Store this week when something caught his eye. He almost freaked out double rainbow style on his blog: OMG, there is a tiny horse at the Apple Store!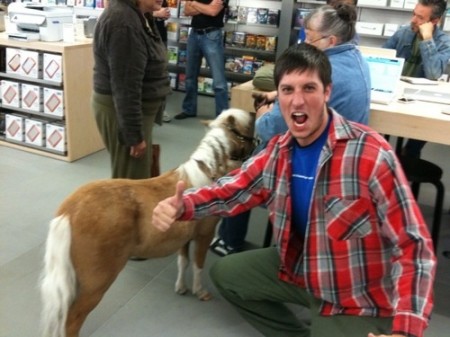 Is the horse shopping for an iPhone? Do you think the tiny little miniature horse is trying out a MacBook Pro? Incredulously, Frank asked an Apple Store employee whether the pony he was seeing was real. As it turned out, Frank wasn't on drugs. The Apple Store employee calmly explained the tiny pony was in the store all the time.
But why is there a tiny pony at Apple store? Another Apple Store customer Chris Laseter explains the Apple Store tiny pony mystery: "It is a one-to-one customer's horse that visits the store [regularly]. He even rides in the front seat of the woman's van."
Frank Chimero via gizmodo

Related Posts