What's on Obama's iPod in 2010 and 2008
What music is on Obama's Apple iPod? President Barack Obama describes his playlist.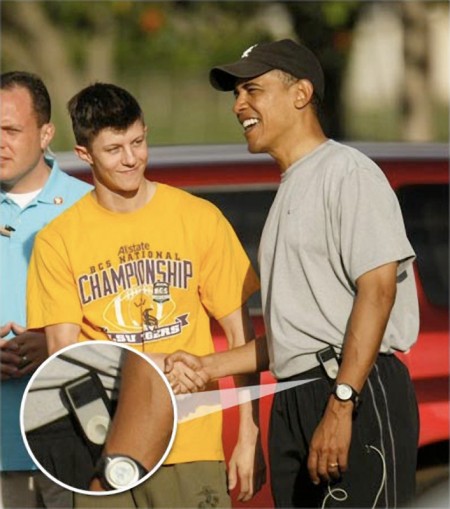 Obama's iPod & Presidential Mac
Obama is an Apple fan. He is seen with PacMan Mac (he and his family use Apple computers), demos US Health Care website on Presidential Mac, and his White House Senior Advisors use MacBook Pro for live policy discussions. He even gifted an iPod to Queen Elizabeth.
This May, Obama joked about not able to figure out an iPod in a commencement address at Hampton University: "And with iPods and iPads; and Xboxes and PlayStations — none of which I know how to work." Resulting in chuckles from the audience. (The hopelessly unschooled tried to spin it as "Obama admits he's too stupid to even use an iPod.")
But despite the self deprecating humor, Obama is an iPod man. So, what's on the iPod of the current US President?
Obama iPod Playlist 2010
Toward the end of an interview with Rolling Stone October 15, 2010 issue (published September 28, 2010), President Barack Obama describes what's on his iPod:
"My iPod now has about 2,000 songs, and it is a source of great pleasure to me. I am probably still more heavily weighted toward the music of my childhood than I am the new stuff. There's still a lot of Stevie Wonder, a lot of Bob Dylan, a lot of Rolling Stones, a lot of R&B, a lot of Miles Davis and John Coltrane. Those are the old standards."
The US President also has: "A lot of classical music. I'm not a big opera buff in terms of going to opera, but there are days where Maria Callas is exactly what I need."
He also describes the concert with Bob Dylan, and another concert with Paul McCartney who sang "Michelle" to Michelle Obama.
Obama iPod Playlist 2008
This is not the first he reveals what's on his iPod. Obama describes his musical interests in an interview on the July 10th, 2008 issue of Rolling Stone.
He mentions Bob Dylan and Bruce Springsteen are icons. He's got the entire Dylan's Blood on the Tracks album [itunes link]. One of Obama's favorites during the political season is "Maggie's Farm" [itunes link].
"I've got a lot of Coltrane, a lot of Miles Davis, a lot of Charlie Parker. I've got all the artists we've already talked about, but I've got everything from Howlin' Wolf to Yo-Yo Ma to Sheryl Crow to Jay-Z."
He also talks about rock & roll and rap music. Obama knows a number of the rap stars, including Jay-Z, Ludacris, and Russell Simmons. He describes them as "great talents and great businessmen."
More US President Apple Fans
Obama is not the only US President to be an Apple fan. Former President Bill Clinton describes Apple iPhone is his favorite device. In a video interview, the now former President George Bush talks about his iPod at the White House.
via cult of mac

Related Posts