Analyst: iPad is Laptop PC Killer?
Morgan Stanley Analyst: laptop PC sales declined year-over-year for the first time ever, after the Apple iPad tablet launch.
US Retail Laptop pc Sales, YOY Unit Growth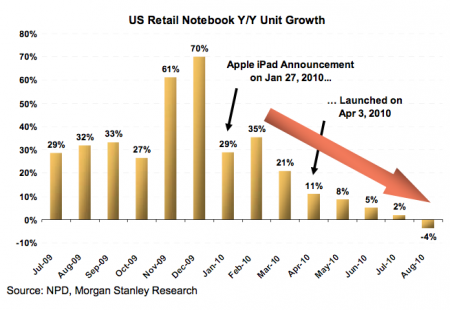 Analyst Katy Huberty from Morgan Stanley provides evidence that the notebook industry is affected by the Apple iPad, as shown by the chart. US retail notebook year over year unit growth took a hit this year, slowly declining to negative territory. "Tablet cannibalization" from Apple iPad is at least partly responsible, described the analyst.
NPD shows "Similar data for the first week of September."
Recently, BestBuy CEO Brian Dunn confirms that iPad killed 50% laptop PC sales (but increasing overall units sold when counting iPad sales).
Not a surprise, considering that scores of people are putting iPad to good use:
via Fortune / CNN

Related Posts