Microsoft Dreams Windows Phone 7 Zombies Will Bury iPhone & BlackBerry
Microsoft hosted a garish parade calling all Windows Zombies to bury the industry-leading iPhone and BlackBerry.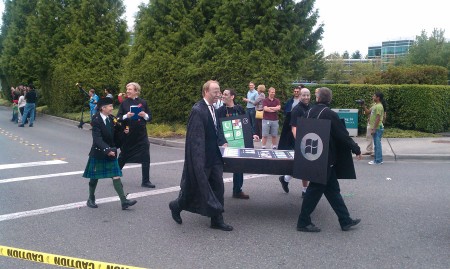 Microsoft Phone Dreams
Microsoft imagination gone wild!
In the latest blatant demonstration of how out-of-touch the Redmond company is, Microsoft parades the hope that the not-yet-released Windows 7 Phone will bury iPhone and Blackberry phones. Best of all? These photos are taken by a non-Microsoft Android phone.
So this is what the Microsoft Dilbert committee looks like! Windows 7 Phone is not available for sale yet, three years after Apple released the 2007 iPhone, and they think it can bury the industry-leading devices?
Microsoft: Windows Users Are Zombies
A major thing that stands out about Microsoft's WiMP 7 parade is the huge number of Windows Zombies lead by the late Michael Jackson. There are also vampires in sight. Does it mean that Microsoft is out to suck your blood?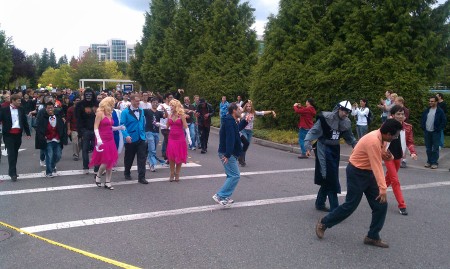 Fat Darth Vader: Evil Empire Mascot
A fat Darth Vader: mascot of the Microsoft evil empire? Is this MS CEO Steve Ballmer in costume?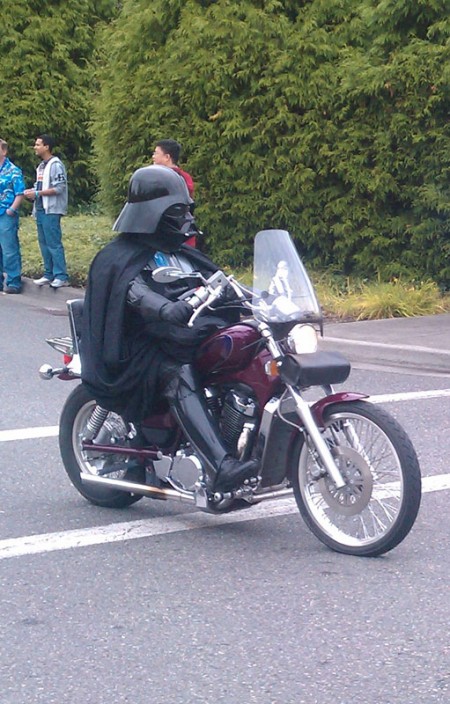 Microsoft Advertises WiMP 7 Atrocious Design
Redmond demonstrates that Windows Phone 7 will have atrocious design (made with fugly colors and clip art):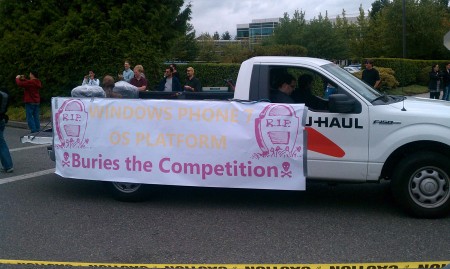 Windows 7 Phone Service Overhaul
Microsoft shows a car after the amazing Windows 7 Phone "service overhaul." Does it mean WiMP 7 is like a crippled door-less car that requires towing?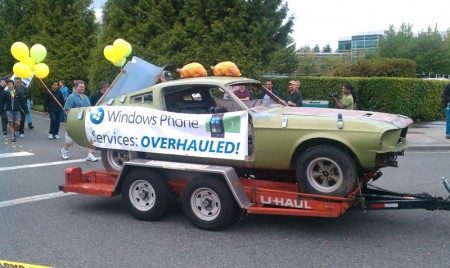 Industry Reality
Have you ever heard of the Microsoft 2010 Kin Phone, Zune, Play for sure, or MSN search? Each is Microsoft's unsuccessful attempt to copy a successful product. Microsoft's newest Kin phone was discontinued after 6 weeks on the market. Do you think WiMP 7 will last 7 weeks?
No word on the status of Microsoft's iPad knock-off.
Photos: by Trioculus on flickr

Related Posts