Leaked Apple FaceTime SexyTime TV Ad
Leaked: The new iPhone 4 and iPod touch 4 FaceTime ad will feature p0rnstars demonstrating SexyTime?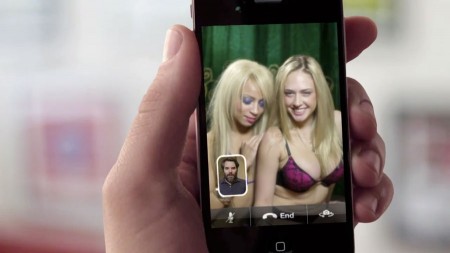 iP4Play describes: "The new FaceTime ad featuring p0rnstar Kagney Linn Carter and dancer Natalia Romero is the best yet."
Video: New Apple FaceTime Ad Features P0rnStars!
Well, as you can of course tell, this is an Apple FaceTime ad spoof. The ad is mild (PG-13) NSFW, but you probably don't want to watch this at work anyway:
iP4Play, the creator of this spoof ad, is a real SexyTime video chat service for iPhone 4 and iPod touch 4 users. They are a pay for "play" service of real FaceTime chat with "models." Awesome use of FaceTime?
via cultofmac

Related Posts