Kanye West Calls Out Apple "Bullshit" on MacBook vs. iPad
You think Apple CEO Steve Jobs heard Kanye West's call of bullshit?
Kanye West Calls Out Apple MacBook vs. iPad Bullshit
Kanye West tweets today his thought on iPad 3G vs Apple laptop: "Why don't they make Macbooks that get online like the Ipad… that's some bullshit man"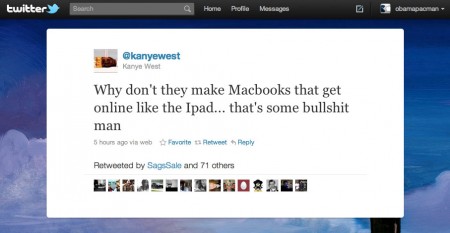 Kanye West is of course referring to the lack of built-in mobile internet option on Apple MacBook / MacBook Pro. Do you think Apple will make MacBook / MacBook Pro with 3G? Mac user Kanye West can probably afford a few of them.
Apple Laptop Mobile Internet Options
There are some options for mobile internet on Apple MacBook and MacBook Pro, but it's not quite built in.
iPhone tether: official iPhone tethering (using iPhone as MacBook internet connection) works well on the carriers that support it, requires the tether package. Drains iPhone battery quickly, due to iPhone working twice as hard to send and receive data to the Mac and over the mobile data network.
Mobile internet expansion card. These come as both USB and ExpressCard/34 cards. The problem is, most Apple laptops don't have a ExpressCard/34 slot, which allows the card to sit a bit more flush with the MacBook Pro. But either way, mobile internet expansion cards will stick out of your Mac due to the antenna. These also require a contract.
For me, iPhone tethering works. You can even tether to your jailbroken iPad. Stay tuned for a tethering guide Kanye!

Related Posts