iTunes 10 as iPhone, iPad, iPod Dock!
This hidden iTunes 10 feature is great for Party Time. Turn your Mac or PC into an iPhone, iPad, & iPod dock with Apple's free music jukebox software.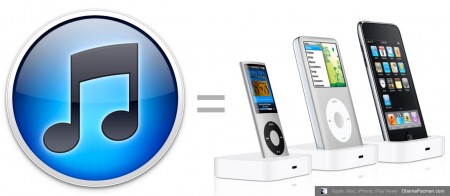 iTunes 10 As Free iPhone / iPod Dock
Apple stealth feature update win. Before iTunes 10 (and some say recent versions of 9), you had to enable "manual sync mode" to play your iPod music on another computer.
Now, you can keep your iDevice auto-synced to home computer but plug in to iTunes at work or at your friend's place without worrying about anything being deleted!
3 Step Guide: How to Use iTunes as iPod, iPhone, iPad Dock
1. Make sure you got iTunes 10 installed. If you do, plug in your iPhone, iPad, or iPod touch to the computer.
2. For iOS devices, you might not get prompt to erase device.
If you plug in an iPod, this warning still comes up: "The iPod 'NAME' is synced with another iTunes library. Do you want to erase this iPod and sync with this iTunes library?"
Choose: "Cancel" (and probably select the don't ask me again check box too)
3. An iOS device should appear in its usual place on the left pane, open it and start playing music! That's it!

What not to do: Do not click sync if the device is not matched to its library.
iTunes 10 as Dock FAQ
Q: Does it play protected tracks?
A: To play protected tracks, you need to authorize the computer.
Q: "Is just for iOS devices or it works with an older iPod?"
A: OP tested that it works iPod nano 4G (Fourth Generation).
Q: "Can you play through to speakers connected via Airport Express / AirPlay?"
A: Yes, this works with iTunes AirPlay to stream music throughout your entire house wirelessly (we tested with music)
Q: Does it work with Apple remote / App?
A: It works with both the physical Apple remote [$19 at amazon
] and the free Remote App [itunes link] if you got another iDevice set up for iTunes remote control.
Q: What did you test this on?
A: Tested with: Snow Leopard running iTunes 10.0. Devices: iPhone, iPad, iPod nano 4G.
Now, if you got a souped-up Mac Pro with iTunes 10, would it the most expensive iPhone, iPod, and iPad dock ever?
via 9to5
You are reading '
iTunes 10 Tips
' read more from this series:
iTunes 10 as iPhone, iPad, iPod Dock!

Related Posts