iPod touch 4G vs. iPhone 4 Camera Comparison Test: Round 2
Does iPod touch 4th generation make better video than iPhone 4? Here's a real camera comparison test.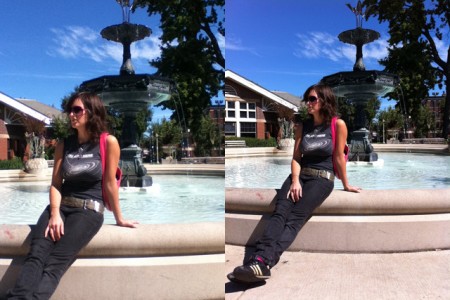 In a recent camera quality "test", iPod touch 4th generation is shown to produce better video than iPhone 4, with better contrast and less glare. Unfortunately, as expected, that turned out to be false.
Arstechnica explains why that's unlikely with their 3 page article: Can't top iPhone 4; better than nothing. For a quicker read, here's a summary of the camera differences, camera image quality, and video quality:
Camera Differences, iPod touch 4G vs. iPhone 4
Several factors limit the camera choices available in the iPod touch 4.
First, the thinness of iPod touch means iPhone 4's autofocus camera won't physically fit in the body of the iPod touch 4. Thus, iPod touch has a camera with a lower resolution sensor, no autofocus, no LED flash, and no HDR capabilities.
Second, iPod touch starts at $229, compared to iPhone 4 starts at $599 without contract (but much less when subsidized with mobile phone contract). They are not exactly products in the same price range.
Camera Specs, iPod touch 4G vs. iPhone 4
iPhone 4 camera: 28mm wide-angle, auto-focus, 5MP, backside illumination.
iPod touch 4th generation camera: 40mm, fixed-focus lens, 960 x 720 still photo.
Both record HD (720p) videos up to 30 frames per second with audio.
Camera Image Quality
In terms of photo quality, under bright light, the camera differences are less obvious (except for photo size), even with iPhone 4 camera's higher dynamic range.
In terms of night / low light photography, iPhone 4 does a much better job with subtle details. Due to fixed-lens of iPod touch 4, photos closer than 24″ head and shoulder portrait is likely to be blurry.
Top photo: Left, iPod touch 4g. Right iPhone 4 with wider angle lens.
Video Camera Quality, iPhone 4 vs. iPod touch 4G
When it comes to HD video recording, the iPod touch 4g is said to be comparable to the iPhone 4:
iPod touch 4 Video Camera Quality
iPhone 4 Video Camera Quality
Facetime Video Quality
What about FaceTime video quality with the front camera? iPod touch 4 FaceTime chat is said to be "more or less identical to using an iPhone 4."
Conclusion
Even with the obvious conclusion that iPhone 4 has a better camera, iPod touch 4 camera should still work well for casual users.
iPod touch 4 camera still photos, while smaller than that of iPhone 4, is still usable when displayed at web page resolution for its target audience. iPod touch camera is said to be usable for quick Facebook, Twitter, avatar / profile photos, and even quick post to Craigslist and ebay of items under bright lights.
FaceTime and 720p video recording are comparable to iPhone 4 (but not better) under good ambient light conditions. Pretty good for the new iPod touch 4, a device barely the thickness of ninja throwing stars.
via arstechnica

Related Posts