iPod nano 6G: Hands on Video & Walkthrough, iWatch Mod Potential?
Short OP hands-on video of the 2010 Apple iPod nano 6th generation. Will it work as an iWatch?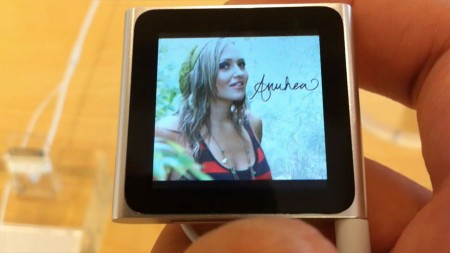 iPod nano 6G Quick Hand-on Video
Here's a video of OP Editor's first time playing with the new iPod nano at the Apple Store. Filmed on iPhone 4 (Keep in mind: it's difficult to use another device while looking through a video camera):
Video summary and our quick iPod nano 6th generation walk-through:
Quick swipe of the music playing interface. Click on album cover art to bring up player control. Swipe left or right for different controls.
Externals with physical volume buttons and power button on one side. Headphone port and dock connector on the bottom.
On the back / iPod nano 6g clip is the signature Apple logo.
"Apps" of the iPod nano 6G. It is not running iOS but looks like it. The apps are: Playlists, Now Playing, Artists (Bono in your iPod), Genius Mixes, Radio, Podcasts, Photos, Settings, Songs, Albums, Genres, Composers, Fitness (Nike + iPod Sport Kit is sold separately), Clock, and Audiobooks.
Quick view of settings App (no auto-lock setting?)
Radio app of the iPod nano 6G lets you roughly choose your station with the dial and fine-tune with the arrows. There is even an automatic station search (not shown).
Not shown: multi-touch screen rotation. Use two fingers to rotate the iPod nano 6G display orientation.
(And, yes, someone needs trim his nails. Excuse: traveled 5000 miles this week).
iPod Nano 6G Interface: Pretty Snappy
Good news: the 2010 iPod nano 6G weights almost nothing! And the display looks great! It even has an integrated clip.
The interface is responsive and its elements are airy (not cramped)!
For those who are used to the iPhone responsiveness, on some older iPod nano some of the graphic-heavy mode, such as Cover Flow, might not have run perfectly. The new iPod nano works great, its interface is snappy and nothing seems slow.
iPod Nano 6G Cons
A few cons for the iPod nano 6G:
The iPod nano 6G does not play video. However, since the iPod classic display is too small for video for OP's taste, we doubt real product users will miss the feature. When a music video is synced, it seems to play only the audio and display a static image.
There is no video camera either, unlike the previous generation iPod nano. The iPod touch 4G cost only slightly more, so those who want a video camera have a clear alternative. Translation: If you want iPod touch features, get an iPod touch.
iPod Nano iWatch Potential?
Bad news: iWatch makers, OP didn't find any setting that seems to keep the display continuously on. iPhone, iPod touch, and iPad have an "Auto-Lock" setting, but the iPod nano 6G didn't seem to have that. Perhaps Apple will add the feature if you ask for it at apple.com/feedback
Conclusion
The iPod nano 6G is great for those who want a touchscreen iPod that behaves similarly to Apple iPhone, iPod touch, and iPod. The interface is snappy, and the menu is easy to navigate. But if you are looking for an iPhone or iPod touch in a nano factor, then look to the iOS based devices instead.
But if you are looking for a tiny clip-on touchscreen music player that feels almost weightless, this new iPod nano is a clear choice.

Related Posts