iPhone Apps Could Win You a Million Frequent Flyer Miles
Delta and AA are offering a chance to win one million frequent flyer miles by using their iPhone Apps.
Want to beat the George Clooney character's miles accumulation in Up in the Air?
These App Store promotions are for members of both Delta's SkyMiles and American Airlines' AAdvantage frequent flyer programs, and those who want to win a million miles.
Miles, What Are They Good For?
If you are asking, miles, what are they good for? They are good for booking your next vacation flight (subject to availability of reward seats), or convert to hotel rooms nights, or other goodies.
Delta iPhone App
Get the Delta App [itunes link] for iPhone, iPod touch with iOS 4.0 or later. Sign up to Delta SkyMiles account number here.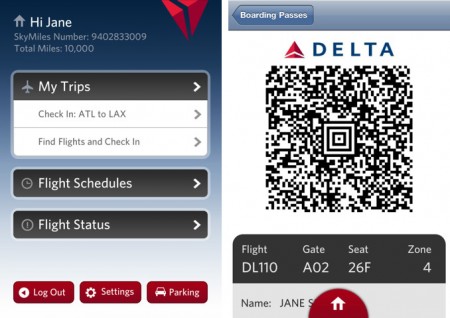 The Delta App helps you find your flight, check in, check flight schedules, flight status, get mobile boarding pass and more. It even has a Parking Reminder where you can take a picture / note where you park your car (with optional GPS)!
American Airlines iPhone App, with Bonus Sudoku Game
The AA folks surely like you to be entertained. Their iPhone App even has a built in sudoku game!
American Airlines App [itunes link] for iPhone, iPod touch, and iPad with iOS 3.1.3 or later.
You can view Reservations & Check In, Check Flight Schedules, Check Flight Status, Book Flights, AAdvantage Enrollment, Play Sudoku, get Mobile Boarding Pass, and more.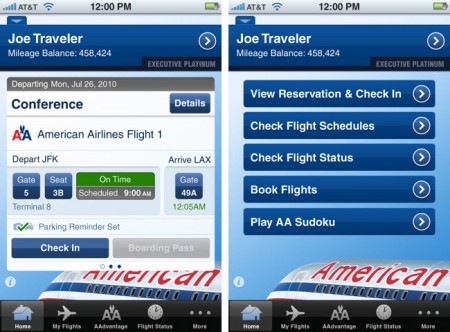 It also has a parking reminder section with Photo & Notes, but doesn't seem to have the optional GPS.
Sweepstake: ends September 29, 2010 for Delta, and October 15, 2010 for AA.
via tuaw

Related Posts